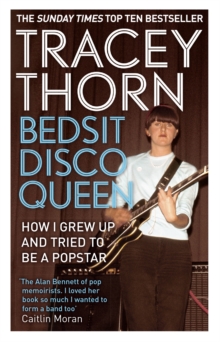 Bedsit Disco Queen : How I Grew Up and Tried to be a Pop Star
Paperback
Description
I was only sixteen when I bought an electric guitar and joined a band.
A year later, I formed an all-girl band called the Marine Girls and played gigs, and signed to an indie label, and started releasing records. Then, for eighteen years, between 1982 and 2000, I was one half of the group Everything But the Girl.
In that time, we released nine albums and sold nine million records.
We went on countless tours, had hit singles and flop singles, were reviewed and interviewed to within an inch of our lives.
I've been in the charts, out of them, back in. I've seen myself described as an indie darling, a middle-of-the-road nobody and a disco diva.
I haven't always fitted in, you see, and that's made me face up to the realities of a pop career - there are thrills and wonders to be experienced, yes, but also moments of doubt, mistakes, violent lifestyle changes from luxury to squalor and back again, sometimes within minutes.
Information
Format: Paperback
Pages: 384 pages, Integrated b/w photos
Publisher: Little, Brown Book Group
Publication Date: 16/01/2014
Category: Rock & Pop music
ISBN: 9781844088683
Free Home Delivery
on all orders
Pick up orders
from local bookshops
Reviews
Showing 1 - 2 of 2 reviews.
Review by timjones
27/08/2015
Earlier in 2014, I read Viv Albertine's Clothes, Clothes, Clothes. Music, Music, Music. Boys, Boys, Boys. and enjoyed it very, very much - in fact, it was and remains my favourite book of 2014. In reviews and interviews, it was often compared to Tracey Thorn's Bedsit Disco Queen, so I was keen to read that as well.And I enjoyed it, but not as much as #clothesmusicboys. Partly that's because Viv Albertine came of age musically in the 1970s, the same decade in which most of my ongoing music interest began; Tracey Thorne is the best part of a decade younger, and the music genres she has passed through are of less interest to me.But it's also because Viv Albertine has led (for both good and ill) quite an extreme life, and her autobiography reflects this - whereas Thorne is a much more reserved and contained character, and so her autobiography is much less dramatic. For all that, it's still a very worthwhile read.
Review by LARA335
27/08/2015
Beautifully written (as you would expect from a woman who managed to get a First in Eng Lit while juggling two bands, a solo career, and touring). This is wry and understated, and Tracey comes across as level-headed and self-aware as she remembers her youth and almost nerdy passion for making music, and the highs and embarrassing lows of being a pop star.
Also by Tracey Thorn