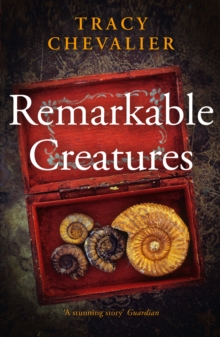 Remarkable Creatures
Paperback
Description
A stunning novel of female friendship, forbidden love and evolution from the bestselling author of Girl with a Pearl Earring. In the early nineteenth century, a windswept beach along the English coast brims with fossils for those with the eye... From the moment she's struck by lightning as a baby, it is clear Mary Anning is different.
Her discovery of strange fossilized creatures in the cliffs of Lyme Regis sets the world alight.
But Mary must face powerful prejudice from a male scientific establishment, not to mention vicious gossip and the heartbreak of forbidden love. Then - in prickly, clever Elizabeth Philpot, a fossil-obsessed middle-class spinster - she finds a champion, and a rival.
Despite their differences in class and age, Mary and Elizabeth's loyalty and passion for the truth must win out. Remarkable Creatures is a stunning novel of how one woman's gift transcends class and gender to lead to some of the most important discoveries of the nineteenth century.
Above all, it is a revealing portrait of the intricate and resilient nature of female friendship.
Information
Format: Paperback
Pages: 352 pages
Publisher: HarperCollins Publishers
Publication Date: 01/04/2010
Category: Historical fiction
ISBN: 9780007178384
Other Formats
EPUB from £4.99
CD-Audio from £15.45
Free Home Delivery
on all orders
Pick up orders
from local bookshops
Reviews
Showing 1 - 5 of 6 reviews.
Previous | Next
Review by miss_read
16/06/2015
I think Chevalier plays a bit too fast and loose with the truth. Poor poor Colonel Birch. Artistic license taken a tad too far, in my opinion.
Review by Eyejaybee
16/06/2015
One of the most beautiful books i have read for a long time. Basically this is a fictionalised history of Mary Anning who was the leading discoverer of dinosaur fossils in nineteenth century Lyme Regis, at a time when such discoveries were just beginning to challenge the creationist view of the world. The book takes the form of alternate reminiscences from Anning herself and Elizabeth Philpot, a middle class lady who retreated to Lyme Regis and gradually became Anning's leading champion.As usual, Ms Chevalier has obviously done an immense amount of research, and is able to discourse on her subject with great authority, though never losing her reader's attention.Exquisitely done.
Review by Fliss88
16/06/2015
Very interesting book and another one that makes me ask, how many other stories of people are there, that most of us have never heard of, but should! Mary Anning was a woman who should never have survived being struck by lightning as a baby. However she not only survived, but went on to become the first recognized female fossil collector and dealer, at a time in history when ideas where being challenged and changed by the evidence being discovered by people like Mary. She was poor, a woman, unmarried, yet from a lifetime of living by the sea and on the beach collecting, she knew more about the growing world of fossils than most of the so called male experts of the day.
Review by sianpr
16/06/2015
Heart warming and absorbing story. Chevalier brings history to life again.
Review by booketta
16/06/2015
I have read this book group but it was already on my TBR, so this was no hardship. It took me slightly longer to get into this story than my previous read by Tracy Chevalier - The Girl with the Pearl Earring. However, it grew on me from about the half way mark when it got interesting. Although I have been to Lyme Regis, I didn't know much about Mary Anning.This is typical historical fiction, but what I like is that we are not focussing on Britain's monarchs over the past years but one of our greatest and possibly our first palaeontologist. Although not trained in that field, she is perhaps more correctly, as written in the book a fossilist. Mary was trained by her father to search for fossils and this was the way, after Richard Anning's death, the family came to earn their living by selling on their finds to some of the great collectors and scientists. Upon meeting Elizabeth Philpott, Mary learns more about her finds. Elizabeth does not have Mary's natural ability to search and dig out these specimens but she can read and write and is learned to some extent in this field. Although, the relationship between the two very different people at the centre of the story was interesting, for me, the book really developed when the collectors were introduced and how they impacted on the relationship between Mary and Miss Philpott. Particularly Colonel Birch for whom they both harboured different feelings.As usual a well written story with plenty of detail and description in location and setting. Likeable and believable characterisations weaving fiction alongside the factual information. I liked the nod to Jane Austen as having possible visited the Assembly Rooms and as the author mentions in her postscript Miss Austen was a visitor to the area so this was quite likely.