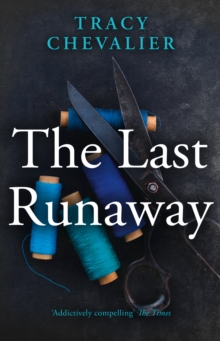 The Last Runaway
Paperback
Description
The stunning novel from the bestselling author of Girl with a Pearl Earring. Honor Bright is a sheltered Quaker who has rarely ventured out of 1850s Dorset when she impulsively emigrates to America.
Opposed to the slavery that defines and divides the country, she finds her principles tested to the limit when a runaway slave appears at the farm of her new family.
In this tough, unsentimental place, where whisky bottles sit alongside quilts, Honor befriends two spirited women who will teach her how to turn ideas into actions.
Information
Format: Paperback
Pages: 400 pages
Publisher: HarperCollins Publishers
Publication Date: 29/08/2013
Category: Historical fiction
ISBN: 9780007350353
Other Formats
EPUB from £3.99
CD-Audio from £15.45
Free Home Delivery
on all orders
Pick up orders
from local bookshops
Reviews
Showing 1 - 3 of 3 reviews.
Review by Eyejaybee
16/06/2015
I find that each novel by Tracy Chevalier seems to be even better than the last one, and, let's face it, she started from a very high level. She seems to have a particular facility for weaving glorious, engaging and engrossing stories from subject matter that one might not immediately view as particularly exciting.. In her latest novel the protagonist is Honor Bright, a young Quaker woman from Bridport, Devon, who travels out to Ohio with her sister Grace who is engaged to be married to a former neighbour who had emigrated to set up a draper's shop. Honor is plagued with dreadful sea-sickness throughout her Atlantic crossing, and then suffers the shock of seeing her sister contract, then very soon die from, yellow fever. Distraught, and still unwell herself, Honor spends a week recovering at the house of Belle Mills, a local milliner with whom she develops a lasting friendship. It is here that we learn of Honor's considerable skills at sewing quilts, a fundamental talent for any Quaker woman. Meanwhile Honor has sparked the interest of Donovan, Belle's half-brother. Donovan's life revolves around the sinister heart of the novel. The action all takes place in northern Ohio which in 1850 was part of the route followed by escaping slaves heading for the total freedom on offer if they can cross into Canada. Honor finds herself participating in "the Underground Railroad", an ad hoc network of people helping the escapes to evade recapture. Donovan is a bounty hunter specialising in catching them and returning them to their "owners". Honor's fellow Quakers find themselves in a quandary - they abhor the existence of slavery but they are also bound by the law and risk losing their livelihoods for open collusion. Honor's life is far from easy, and Chevalier gives a moving picture of her struggles to become accepted in the community. We get a close insight into nineteenth century life on a farm, and also of the rituals of Quaker life (including quilts), though this is never allowed to intrude into the novel. At the end of each chapter we find a letter from Honor and addressed either to her parents or to "Biddy", her best friend from back home in England which allows Chevalier to advance the story.The blending of the characters, the historical context, an engaging plot and Chevalier's trademark beautiful prose makes this a glorious novel. One of the finest I have read this year.
Review by LARA335
16/06/2015
Deceptively simply told, set in the 1850's. Illuminating the slave trade and a young America's relationship with it, and the confinement of pioneers both men and women in such a large New World. Stitched together with quilting. And no easy answers. Chevalier just gets better and better.
Review by sianpr
27/08/2015
Tracy Chevalier is an excellent story teller and this tale of Honor Bright, a Quaker who sets off from Bridport to the New World, doesn't disappoint.