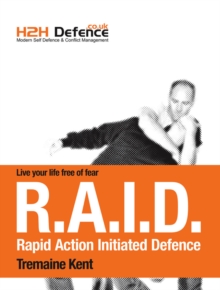 Modern Self Defence and Conflict Management : (the RAID system)
Paperback / softback
Description
The ultimate self-defence book which helps you to deal confidently with any violent or threatening confrontation.
The guide takes you through all the possible stages of a confrontation in a easy-to-follow style. Modern Self Defence and Conflict Management is your family's personal security guide.
It has been developed to provide survivability on today's city streets.
The author, Tremaine Kent, is a pioneer within the self-defence industry, with over 18 years martial arts teaching experience and 15 years active military service within our elite special forces.
He has created the RAID system (Rapid Action Initiated Defence) - a new system described within this book which is a complete modern self defence guide for personal protection and security.
The delivery of RAID is taught through the following five easy-to-follow modules:Deter: Develop more confidence through learning specialist skills which will create a non-victim mentality and provide you with a safer way of living. Detect: Through awareness and visual observation you will be able to foresee potential situations before they arise.
Defuse: By following the book's conflict management process, you will be able to defuse the problem while preparing the mind and body to escape or defend if necessary.
Defend: The book teaches you defence strategies that work on the body's natural reflexes.
These combined with illustrated defence techniques make it easy to learn and easy to remember when in a confrontational situation.
Desensitize: After a violent confrontation you may suffer from denial or mental stress.
Learn the tools and techniques to enable quick recovery. Fully illustrated, with expert advice and emphasis on confidence, awareness, conflict management, defence and dealing with the aftermath of potential conflict, this is more than just a self defence book and will be a protection bible for people worried about living in a world of increasing violence.
Information
Format: Paperback / softback
Pages: 144 pages
Publisher: Troubador Publishing
Publication Date: 01/04/2013
Category: Combat sports & self-defence
ISBN: 9781780884899
Free Home Delivery
on all orders
Pick up orders
from local bookshops