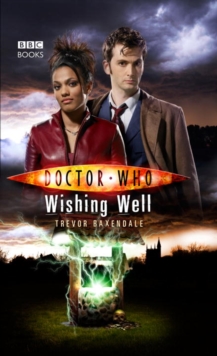 Doctor Who: Wishing Well
Hardback
Description
The old village well is just a curiosity - something to attract tourists intrigued by stories of lost treasure, or visitors just making a wish. Unless something alien and terrifying could be lurking inside the well? Something utterly monstrous that causes nothing but death and destruction?But who knows the real truth about the well? Who wishes to unleash the hideous force it contains? What terrible consequences will follow the search for a legendary treasure hidden at the bottom?No one wants to believe the Doctor's warnings about the deadly horror lying in wait - but soon they'll wish they had... Featuring the Tenth Doctor and Martha as played by David Tennant and Freema Agyeman in the hit sci-fi series from BBC Television.
Information
Format: Hardback
Pages: 256 pages
Publisher: Ebury Publishing
Publication Date: 01/12/2007
Category: Science fiction
ISBN: 9781846073489
Free Home Delivery
on all orders
Pick up orders
from local bookshops
Reviews
Showing 1 - 4 of 4 reviews.
Review by JonArnold
16/06/2015
It's essentially Fury from the Deep rewritten for an English village setting but it continues the 2007 trend of the Who books rediscovering how to entertain. You probably won't remember much about it after a couple of days but it's an entertaining waste of an hour or so.
Review by LibraryRon
16/06/2015
"Wishing Well" is an incredible Doctor Who story. I recently fell in love with the television program and wanted to explore the expanded universe of the Doctor and his companions through BBC Books. I would recommend this to anyone who is a fan of Doctor Who or anyone who enjoys SciFi. This book tells the story of the Doctor and Martha Jones struggling to survive against an alien weed known as a Vurosis. This alien, like most in the Doctor Who series, is bent on growing and spawning throughout England them the rest of the world. Joined by several friends the Doctor and Martha need to stop the Vurosis before it is to late.
Review by akreese
16/06/2015
I listened to the audiobook of Wishing Well, which did not work for me at all. The plot of the story was standard fare for a Doctor Who episode, so I didn't have any issues with it. However, the narrator of the audiobook was a woman, and hearing her speak the voice of David Tennant's Doctor just seemed wrong.I won't be listening to any more of the Doctor Who books in the audio format in the future, because I'm too attached to how the characters sound in the TV show. I will give them another chance in book form though someday.As for a rating, it is difficult to give one for the story because the whole experience was colored by my dislike of the narrator's voice, so I'm giving it a middle of the road "3."
Review by Jami_Leigh
16/06/2015
Plot: 2 stars <br/>Characters: 3 stars <br/>Style: 2 1/2 stars <br/>Pace: 2 stars <br/><br/>I keep hoping one of these days, there will be good tie in fiction to sustain me between series of the show. This is not it. Bland, predictable, and stiff, I put it down repeatedly. Only finished because I wanted to get a couple extra books into August. Blah.
Also in the Doctor Who series | View all