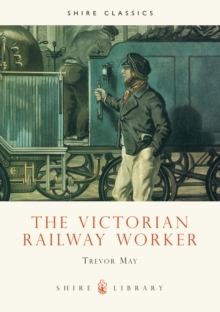 The Victorian Railway Worker
Paperback
Description
Railways quickly became one of the largest employers in the United Kingdom, giving work not only to those who ran the trains, but also to a wide range of craftsmen and ancillary workers.
Some railway employees were seamen. Others were horsemen, for railway companies operated some of the largest fleets of horse-drawn vehicles in the land.
There were also many women workers, mainly behind the scenes, and these included telegraphists and clerks as well as those who worked in railway laundry and catering services.
This book looks at those who ran the railways - as well as those who built them.
About the authorTrevor May is a professional historian and former teacher-trainer.
Other titles for Shire by this author are: Military BarracksThe Victorian Domestic Servant, The Victorian SchoolroomThe Victorian UndertakerVictorian and Edwardian Horse CabsThe Victorian Workhouse.
Information
Format: Paperback
Pages: 32 pages, illustrations
Publisher: Bloomsbury Publishing PLC
Publication Date: 01/01/1999
Category: Trains & railways: general interest
ISBN: 9780747804512
Free Home Delivery
on all orders
Pick up orders
from local bookshops
Reviews
Showing 1 - 1 of 1 reviews.
Review by RobertDay
16/06/2015
A brief introduction to a vast subject. The author quickly covers a range of subjects, often drawing parallels between railway service and military service, something one suspects the Victorians found rather attractive. Even with such a short text, there is something new to learn from this book; for instance, at the height of the 'Railway Mania' in 1846, 200,000 men were engaged in building the railways, more than the entire armed forces of Britain at that time. When the railways were at their height in 1905, they employed 600,000 people, around 3% of the entire national workforce. And I also learnt that following the introduction of Regulations in 1840 and 1842, employees who broke company rules could be treated as having committed a criminal offence and be liable to have their case heard before a magistrate with a penalty of two months' imprisonment.The book also makes it clear that railway workers covered a multitude of trades and crafts, including workshops, catering, hotel staff, clerical staff, carters and those responsible for the care of horses, mariners and dock workers, as the railways were engaged in all these activities.The one area where the book has little to say is on the subject of the early days of the trade unions. The railway companies tended to stratify their workforce with strict demarcation of status, setting drivers as superior to firemen, who were in turn superior to railway staff employed in stations - and so on, with all the divisions that can be imagined. This meant that organised labour was set up on strict gradist lines, with few demonstrations of workers' solidarity during this period. It was only through a long process of amalgamation and campaigning that the railway unions emerged that we know today - and even then, divisions remain, such as that between ASLEF (the footplatemans' union) and the NUR (National Union of Railwaymen, the predecessor to today's RMT).It would have been interesting to contrast the lot of railway workers with conditions today, but that would require a much bigger book addressing the whole subject since 1825. There is an interesting selection of illustrations with informative captions.
Also in the Shire Album S. series | View all