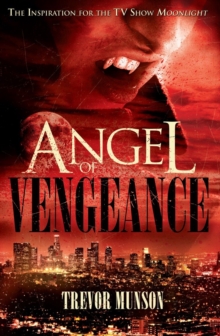 Angel of Vengeance : The Story Which Inspired the TV Show Moonlight
Paperback
Description
This novel that inspired the TV series "Moonlight" puts a twist on the classic Dracula vampire tale and blends it with Chandler hardboiled - P.I. detective fiction. LA-based P.I. and vampire Mick Angel must confront his own nature and his past when the apparently simple case of a teenage runaway is complicated by femme fatales, drug dealers, persistent cops and murder.
Information
Format: Paperback
Pages: 256 pages
Publisher: Titan Books Ltd
Publication Date: 01/02/2011
Category: Crime & mystery
ISBN: 9781848568556
Free Home Delivery
on all orders
Pick up orders
from local bookshops
Reviews
Showing 1 - 2 of 2 reviews.
Very disappointed, but that was to be expected as I really enjoyed the TV show and the novel is quite different. I found Mick quite annoying, going around talking about dames, which was sad because bits of the book are awesome. I loved all the Mick/Coraline stuff because in those moments the author wasn't being so full on with his Mick as Marlowe and the drama flowed much better. But other parts where the narrative is all noirish dick had me rolling my eyes a bit. Even so, stars for the parts of the book that had me engrossed to the end.
Review by Clare_M
16/06/2015
I was a big fan of the TV Show Moonlight when it was on CBS, so much so that I remained affiliated with several online email groups and Facebook groups after the show was cancelled--just to keep apprised of any further developments. Back when the show was on, the show's creator had posted several of the first chapters of the book up on his webpage. I had read them way back then and really, really enjoyed them. I was very excited to hear that this novel was being punished and I'd finally get to find out *what happened!?* Trevor Munson's novel-Mick was very different than the TV show version. While he was still a tormented soul, novel-Mick does not have Beth to look to for a reason to live. He also has a slightly different mythos in the way he lives; how he eats/feeds, *who* he feeds on, when he can be outside...to start. <br/><br/>When I was a kid I liked the Film Noir detective movies. The detective in his dumpy office wearing the cool hat who is approached by the lovely damsel who needs his help... This book combines my love of paranormal/fantasy books with the classic film noir detective. I was truly surprised by "who done it" and why. The mystery was fun to read but so was the character study of who Mick is and how he got to be who he is--not just as a vampire but how he developed the personality and attitude he has in the present day. The author shows this by flashing back occasionally to Mick's past.<br/><br/>For me to enjoy a fantasy or paranormal book it has to dovetail with reality somehow, make some sort of sense scientifically and logically. There are many clever touches that make this book's vampire mythos more believable. These vampires don't have "super vision"...they have better night vision *because* they can't see colors...well any color but red. This makes a bit of evolutionary sense in how this species would evolve. They don't sleep in coffins, they sleep in freezers to slow the body's decomposition...<br/><br/>Adding little touches like this helped keep me firmly grounded into the book's "reality", just as if there had been odd inventions of the author that didn't "fit" it would have caused me to fall out of the story, lose interest. <br/><br/>I really enjoyed this book very much. I'm a huge fan of fantasy and this one was extremely enjoyable--not just as a well written story, but also for the ideas put forth on how vampires might be and why they would be that way. I enjoyed it so much it took me only a few hours to finish it. (The first time.)<br/><br/>I highly recommend this book to anyone looking for an old style Philip Marlowe type mystery starring a vampire who isn't quite sure he likes being one.<br/><br/>