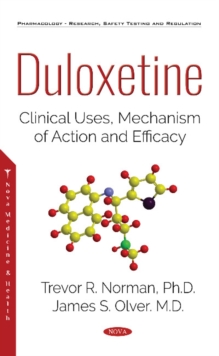 Duloxetine : Clinical Uses, Mechanism of Action and Efficacy
Hardback
Description
The class of serotonin and noradrenaline reuptake inhibitors (or SNRIs) were introduced into clinical use as a result of the perceived short-comings of other antidepressant medications.
Considerations of efficacy, side effects and tolerability have consistently indicated that there is a clinical need for agents demonstrating improvements in one or more of these domains.
Since its introduction in 2007, duloxetine, a representative of the SNRI class, has been shown to be as effective for the treatment of major depression as agents with a longer history of use.
In addition, duloxetine has demonstrated efficacy in a number of other conditions and has been extensively investigated in the treatment of generalised anxiety disorder and neuropathic pain states.
The effectiveness of duloxetine in other anxiety states is not as soundly investigated, but the extant evidence is reviewed.
Such disorders represent a fertile ground to explore the boundaries of duloxetine therapeutics, with the attended possibility of significant benefits to a broader patient cohort.
This volume brings together the clinical evidence for efficacy in these important conditions.
Additionally, it explores in detail the pharmacokinetics, metabolism and mechanism of action of the drug.
All medications have side effects associated with their use and duloxetine is no exception.
A detailed examination of the presentation and incidence of common events associated with the use of the drug as well as rarer treatment emergent adverse events is outlined.
Duloxetine presents itself as a first line treatment of major depressive disorder and as a clinically significant treatment for depressive disorders co-morbid with anxiety and pain states.
Information
Format: Hardback
Pages: 203 pages
Publisher: Nova Science Publishers Inc
Publication Date: 19/10/2018
Category: Pharmacology
ISBN: 9781536143270