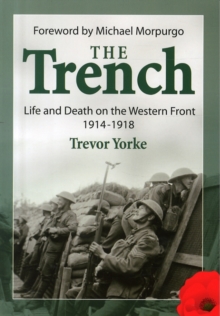 The Trench : Life and Death on the Western Front 1914 - 1918
Paperback / softback
Description
The Trench - Life and Death on The Western Front - with a Foreword by Michael Morpugo.The horrors of the First World War scarred an entire generation at the beginning of the twentieth century.
Now, one hundred years later, we are asked to reflect upon it and remember what a disastrous episode of history it was.
During the next four years many thousands of people, especially the young in school parties, will visit the battle sites of the Western Front in France and Belgium,with their museums, memorials and trench reconstructions.
These last were the setting for so much of the carnage.
This book offers a brief, straightforward, illustrated history of the First World War in some 96 pages.
In particular, it explains the trenches and what it was like to live and fight in them. Using his own diagrams, illustrations, and maps, author Trevor Yorke explains the architecture of them, with their command posts, sally points, tunnels, machine gun nests, duck boards, and sleeping billets.
There are chapters to explain tactics, weaponry, and daily life.
There are special features on the introduction of new weapons of war, such as tanks, early aeroplanes, and the first use of poison gas.The political events throughout the war are described in outline. There are summaries of the major battles and there is information about special places to visit in France and Belgium including key museums, battle sites and memorials.These can bring home to us a real understanding of the unique inhumanity of the war, and why the date 1914 - 1918 require all generations of today to remember and learn from them.As Michael Morpurgo says in his foreword:'As we begin to mark the centenary of the First World War, we should honour those who died, most certainly,and gratefully too, but we should never glorify.
During these next four years of commemoration, we should read the poems, the stories, the history, the diaries, visit the cemeteries - German cemeteries as well as ours - they were all sons and brothers and lovers and husbands and fathers too.'
Information
Format: Paperback / softback
Pages: 96 pages, illustrations
Publisher: Countryside Books
Publication Date: 04/03/2014
Category: European history
ISBN: 9781846743177
Free Home Delivery
on all orders
Pick up orders
from local bookshops