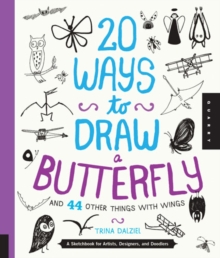 20 Ways to Draw a Butterfly and 44 Other Things with Wings : A Sketchbook for Artists, Designers, and Doodlers
Paperback / softback
Description
Let your imagination take flight with 20 Ways to Draw a Butterfly.
Beautifully illustrated, this inspirational sketchbook will help you learn how to draw anything with wings.
From fairies, bats, and airplanes, to dragonflies, gargoyles, and angels, 20 Ways to Draw a Butterfly is perfect for illustrators, cartoonists, doodlers, and anyone who loves to sketch.
This is not a step-by-step technique book--rather, the winged things in this volume are simplified, modernized and reduced to the most basic elements, offering simple abstract shapes and forms that meld to create the building blocks of any item (man-made or organic) that you want to draw.
This all-in-one sketchbook let's you draw right on the pages making it easy to keep all of your most inspired creations at hand.
Your inner artist will fly free with 20 Ways to Draw a Butterfly and 44 Other Things with Wings.
Information
Format: Paperback / softback
Pages: 96 pages
Publisher: Quarry Books
Publication Date: 01/04/2014
Category: Drawing & drawings
ISBN: 9781592539239