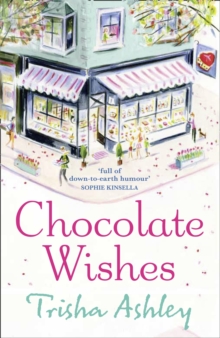 Chocolate Wishes
Paperback
Description
Life is sweet for chocolate maker Chloe Lyon...In the picture-perfect Lancashire village of Sticklepond, Confectioner Chloe dispenses inspirational sweet treats containing a prediction for each customer.
If only her own life was as easy to forecast - perhaps Chloe could have foreseen being jilted at the altar...But when a new Vicar arrives in the village, the rumour mill goes into overdrive.
Not only is Raffy Sinclair the charismatic ex-front man of rock band 'Mortal Ruin', he's also the Chloe's first love and the man who broke her heart.Try as she might, Chloe can't ignore this blast from her past.
Could now be the time for her to make a wish - and dare to believe it can come true?A charming novel for chocoholics everywhere, perfect for fans of Katie Fforde, Jill Mansell and Carole Matthews.
Information
Format: Paperback
Pages: 384 pages
Publisher: HarperCollins Publishers
Publication Date: 04/03/2010
ISBN: 9781847561145
Other Formats
EPUB from £2.24
eAudiobook MP3 from £10.39
Free Home Delivery
on all orders
Pick up orders
from local bookshops
Reviews
Showing 1 - 2 of 2 reviews.
Review by Carolee888
16/06/2015
The book registers for me as 3.5. The story, the characters and setting were great. The problem was that the book was slow going.I thoroughly enjoyed the village of Sticklepond in Lancaster. There is description of the unique buildings. At the begining of the story, we are introduced to Chloe Lyon. She owns a chocolate shop and her best seller is Chocolate Wishes. The wishes are little chocolate eggs that have messages tucked inside like fortune cookies. Her mother left her about six years ago so she took over the role mother to her younger brother, now in high school. Also living with her was her writer grandfather who was just finishing writing 'Satan's Child' and cook, Zillah who did not have any culinary talent. Grumps decides that they should all move to Sticklepond. As Cloe is packing up her mother's things in the attic,she receives the shock of her life. She sets out to find out more of the secret. In the mean time, a new Vicar moves into town.This book has sparks of humor, interesting information about chocolate and even recipes for a chocolate spread and Chocolate Easter eggs. The only thing that it missed was the ability to move the story along. I kept laying it down. I would pick it up read some and find it interesting but it definitely not a page turner.I would recommend this book to all who love chocolate and a good story but with the warning that it not a page turner.
Review by sunnycouger
16/06/2015
This book took far longer to read than it should have. I chose it because I wanted something light and chick-litty for when I was away that was easily digestible, quick to read and easy to read and finish. I have no idea why this didn't happen with this book. On the surface it ticked a lot of boxes - chick lit, romance, chocolate shop = tick, tick, tick but even with that it was just hard work. The story was decent, the characters were okay and there was no reason it should have taken weeks to finish but my brain just refused to read more than a few pages at a time. Meh - it was okay for what it was I guess even though the ending was exceptionally weak. Maybe my brain was just defective about it.<br/><br/>It was actually a little demoralising reading it to be honest. i had hoped to cruise through the next few books as a sort of half way through present to myself but nope, didn't happen and now I'm behind but c'est la vie and all that.