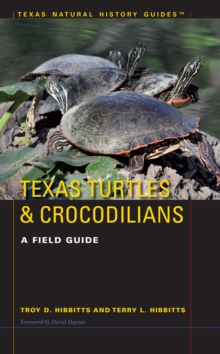 Texas Turtles & Crocodilians : A Field Guide
Paperback / softback
Description
Texas has a large and diverse turtle population, with forms that are found nowhere else (Cagle's Map Turtle and the Texas Map Turtle) and wide-ranging species that barely touch the state, including the Painted Turtles and the Rough-footed Mud Turtle.
From the Sabine River to El Paso, and from the Rio Grande to the Panhandle, thirty-one native and established exotic turtle species are definitely known in Texas, along with one crocodilian, the American Alligator. Texas Turtles & Crocodilians is the first complete identification guide to all the state's turtles and to its single alligator.
It offers detailed species accounts, range maps, and excellent color photographs to aid in field identification.
The authors, two of the state's most knowledgeable herpetologists, open the book with a broad overview of turtle natural history, conservation biology, observation, and captive maintenance before providing a key to Texas turtles and accounts of the various turtle families and species.
Appendices provide brief accounts of species that occurred prehistorically in Texas and non-established exotic species, as well as a table of Texas' major watersheds and the turtle diversity in each one.
Informational resources on Texas turtles and alligators, a map of Texas counties, a glossary, a bibliography, and indexes of common and scientific names complete the volume.
Information
Format: Paperback / softback
Pages: 276 pages, 169 color photos, 5 figures, 36 maps
Publisher: University of Texas Press
Publication Date: 01/02/2016
Category: Wildlife: reptiles & amphibians
ISBN: 9781477307779
Free Home Delivery
on all orders
Pick up orders
from local bookshops
Also by Troy D. Hibbitts