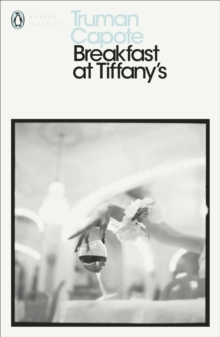 Breakfast At Tiffany's
Paperback
Description
Immortalised by Audrey Hepburn's sparkling performance in the 1961 film of the same name, Breakfast at Tiffany's is Truman Capote's timeless portrait of tragicomic cultural icon Holly Golightly, published in Penguin Modern Classics.It's New York in the 1940s, where the martinis flow from cocktail hour till breakfast at Tiffany's. And nice girls don't, except, of course, for Holly Golightly: glittering socialite traveller, generally upwards, sometimes sideways and once in a while - down.
Pursued by to Salvatore 'Sally' Tomato, the Mafia sugar-daddy doing life in Sing Sing and 'Rusty' Trawler, the blue-chinned, cuff-shooting millionaire man about women about town, Holly is a fragile eyeful of tawny hair and turned-up nose, a heart-breaker, a perplexer, a traveller, a tease.
She is irrepressibly 'top banana in the shock deparment', and one of the shining flowers of American fiction.This edition also contains three stories: 'House of Flowers', 'A Diamond Guitar' and 'A Christmas Memory'.Truman Capote (1924-84) was born in New Orleans.
He left school when he was fifteen and subsequently worked for The New Yorker, which provided his first - and last - regular job.
He wrote both fiction and non-fiction - short stories, novels and novellas, travel writing, profiles, reportage, memoirs, plays and films; his other works include In Cold Blood (1965), Music for Chameleons (1980) and Answered Prayers (1986), all of which are published in Penguin Modern Classics.If you enjoyed Breakfast at Tiffany's, you might like Capote's In Cold Blood, also available in Penguin Modern Classics.'One of the twentieth century's most gorgeously romantic fictions'Daily Telegraph'The most perfect writer of my generation ...
I would not have changed two words of Breakfast at Tiffany's'Norman Mailer
Information
Format: Paperback
Pages: 160 pages
Publisher: Penguin Books Ltd
Publication Date: 01/04/2000
ISBN: 9780141182797
Other Formats
Paperback from £6.09
Hardback from £12.09
Free Home Delivery
on all orders
Pick up orders
from local bookshops
Reviews
Showing 1 - 5 of 13 reviews.
Previous | Next
Review by wyvernfriend
16/06/2015
A good read but not really to my taste, reminded me a lot of secondary school books
Review by birdy47
16/06/2015
This left me cold and made me wish I hadn't bothered. I was very disappointed.
Review by soylentgreen23
16/06/2015
My library seems filled with little works of fiction (little, not minor, although there are a number of those too). I like to say I've read so-and-so an author, even though most of his work is too big or I haven't come across any of it. I've done that with Nabokov, having read "The Enchanter" and not "Lolita." All in good time, I keep saying to myself, and then I pull down another little tome from the shelf and read that instead of something meatier. No wonder it took me ten weeks to digest Don Quixote."Breakfast" is pretty cool. There's little, if any, plot, but Capote does a marvellous job of bringing life into the proceedings, and it's just short enough so that it all feels profound without the usually necessary addition of profundity.
Review by duck2ducks
16/06/2015
Her card proclaims "Miss Holiday Golightly, Travelling", and we recognize her. Determined to be tied down to no-one and nothing, her constant entourage of admirers and paramours describes a passionate enthusiasm - the excitement of nightlife, seven nights a week - while the state of her apartment, bare of furniture and crates unpacked, shows a spirit ready to flee at a moment's notice. When she finally does depart at the end, we aren't surprised - the opening pages told us as much - but accept, as expected fact, that as easily as she flitted into the narrator's life has she flitted out again, chaos and wonder strewn in her wake.<br/><br/>The other three stories in the collection are very short (20 pages each), very good ("His memory of those times was like a house where no one lives and where the furniture has rotted away"), and stylistically different from each other - some subtly so, others more overt.<br/><br/>
Review by skullstuffing
16/06/2015
The film was never this enigmatic. Other shorts by Capote included in this volume are also provocative.<br/>
Also in the Penguin Modern Classics series | View all