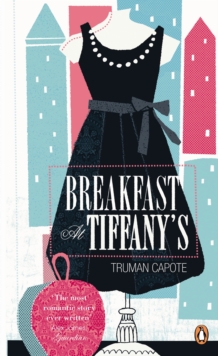 Breakfast at Tiffany's
Paperback
Description
Truman Capote's dazzling New York novel Breakfast at Tiffany's that inspired the classic 1961 film starring Audrey Hepburn is beautifully repackaged as part of the Penguin Essentials range. 'What I've found does the most good is just to get into a taxi and go to Tiffany's. It calms me down right away, the quietness and the proud look of it; nothing very bad could happen to you there, not with those kind men in their nice suits...' Meet Holly Golightly - a free spirited, lop-sided romantic girl about town.
With her tousled blond hair and upturned nose, dark glasses and chic black dresses, Holly is a style sensation wherever she goes.
Her apartment rocks to Martini-soaked parties and she plays hostess to millionaires and gangsters alike.
Yet Holly never loses sight of her ultimate dream - to find a real life place like Tiffany's that makes her feel at home. Full of sharp wit and exuberant, larger-than-life characters which vividly capture the restless, madcap era of 1940s New York, Breakfast at Tiffany's will make you fall in love, perhaps for the first time, with a book. 'A master writer ...makes the heart sing and the narrative fly' The New York Times 'The most romantic story ever written' Alex James, Guardian 'One of the century's greatest storytellers' Independent on Sunday Truman Capote was born in New Orleans in 1925. By the age of fourteen he had already started writing short stories, some of which were published.
After leaving school at fifteen he worked for the New Yorker, his first - and last - regular job.
Following this Capote spent two years on a Louisiana farm where he wrote Other Voices, Other Rooms (1948).
He lived, at one time or another, in Greece, Italy, Africa and the West Indies, and travelled in Russia and the Orient.
Capote is the author of many highly acclaimed books, including A Tree of Night and Other Stories (1949), The Grass Harp (1951), Breakfast at Tiffany's (1958), In Cold Blood (1965), which immediately became the centre of a storm of controversy on its publication, Music for Chameleons (1980) and Answered Prayers (1986).
Truman Capote died in 1984.
Information
Format: Paperback
Pages: 176 pages
Publisher: Penguin Books Ltd
Publication Date: 01/04/2011
ISBN: 9780241951453
Other Formats
Paperback from £6.09
Hardback from £12.09
Free Home Delivery
on all orders
Pick up orders
from local bookshops
Reviews
Showing 1 - 3 of 3 reviews.
Review by Becky221
16/06/2015
Love this book -- love Capote's writing! Wonderful character development -- keeps you guessing. After reading this I just wanted to be as carefree as Holly Golightly!
Review by ConnieJo
27/08/2015
Cute! A few gory details the movie omits. Holly meets the narrator while trying to avoid a lover that bites, Holly becomes pregnant at one point, and Holly's shocking and salty language. Otherwise, pretty much exactly the same as the movie.Holly was a little less cute and a little more... ambiguous here. Couldn't decide whether I loved her, admired her, or hated her. She was a character, though.I did not enjoy the rather inconclusive ending, though. It made me feel like nothing at all happened. Maybe it didn't.
Review by booksandscones
27/08/2015
Saw the movie first, in 1962. It was the first "adult" movie I was permitted to see. Some of the story probably went over my head (when I saw it again on TV when I was older, "Fred" seemed to be the "kept man" of an older woman), but I loved, loved that movie & Audrey Hepburn. Actually didn't notice George Peppard as "Fred" all that much although he was very handsome in those days. Loved Cat!Read the book later, as a teen in the 1960s. I was unsettled to see that Holly was described as "two months shy of her nineteenth birthday", given that she lived in New York by getting money and gifts from men, although Truman Capote and the narrator, "Fred", were adamant that she wasn't a prostitute. The later revelation of her past (she was found as a half-starved runaway by Doc Golightly and married him when she was 14, "a child bride from Tulip, Texas") explained her world-weariness and her longing for a different life. Her unshakeable optimism & unique take on life more than made up for any perceived character flaws.An unforgettable character from 20th century literature.
Also in the Penguin Essentials series | View all