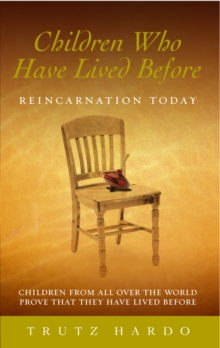 Children Who Have Lived Before
Paperback
Description
In this book, children from all around the world remember their past lives, and eminent scientists explain how many of these children's stories have been followed up to verify whether their statements have any foundation in fact.
Incredibly, when subjected to scientific investigation, children's memories about their past lives can invariably be confirmed in every detail.
Supported by overwhelming scientific evidence, the children's stories in this book suggest that reincarnation is a reality for us all.
Whether they are from England, Europe, the USA, Lebanon, South Africa, Israel, India, Brazil, Sri Lanka or Turkey, children who have lived before offer us insights into our global future, as well as profound messages from our collective past.
This book is a must for anyone interested in the subject of reincarnation. '[Trutz Hardo presents] convincing evidence on reincarnation that will even give the toughest sceptic much to think about. I hope that finally many readers will learn the truth of reincarnation' Elizabeth Kubler-Ross, author of 'On Death and Dying'
Information
Format: Paperback
Pages: 256 pages
Publisher: Ebury Publishing
Publication Date: 01/08/2005
Category: Reincarnation & past lives
ISBN: 9781844132980
Free Home Delivery
on all orders
Pick up orders
from local bookshops
Reviews
Showing 1 - 2 of 2 reviews.
Review by biunicorn
16/06/2015
Children Who Have Lived BeforebyTrutz Hardo This book is totally amazing. It is chock full of stories about children who were able to remember their prior lifetimes and so enthralling and compelling it was a hard book to put down. I would no sooner finish one story than I was anticipating the next. The author had no problem leading me through this wonderful and spiritual journey, and I appreciated his insightful interjections throughout the book. The experiences are broken into sections with a central theme so I could really focus on the meaning of each wonderful tale and not get confused. There is even a section in there that deals with the subject of people reincarnating as the opposite sex and the effects it can have. I especially loved the story about a young man who died of a snake bite then after telling his loved ones in a dream that he was gonna be coming back as a girl, he did in fact come back to his same mom and dad as a girl bearing a birthmark in the same place he had previously been bitten. I would recommend this book to anyone who wants to know more about reincarnation or who like myself enjoys stories about reincarnation. Love & Light,Riki Frahmann
Review by Carpe_Librum
27/01/2016
The title of this book is self explanatory, Children Who Have Lived Before is about reincarnation and in particular about children who remember their past lives. Cases where children say things like "you're not my real mum" or "why am I a girl this time?" and "I have a husband and 3 children in the town of XYZ, take me there." In some cultures this is acceptable and their cases are verified by testing the children's knowledge of the previous life (as with the Dalai Lama). However in other cultures their behaviour is ignored, often discouraged and sometimes even punished.This is a topic I'm very interested in, and one that gives me goosebumps when I hear a good story. A Facebook friend recently posted that her son walked past her dancing with her husband in the kitchen, rolled his eyes and said: "I really hated that dancing back in 1896." Creepy huh?Many of the cases in Children Who Have Lived Before were interesting, and it certainly seemed as though the children in question were tested. They were asked to identify the house they once lived in, their parents and loved ones by name, even down to objects they owned and the things that had changed in the environment around them. I particularly enjoyed the chapter about birthmarks often relating to injuries from their previous incarnation.The main gripe I have with this book though (and why I won't be rating it highly) is that it quoted so heavily from the investigative work done by Dr. Ian Stevenson, and the majority of cases used were more than 30 years old. For a book published in 2005 I expected the content to be a little more current.