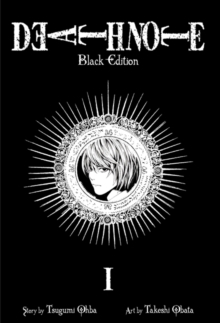 Death Note Black Edition, Vol. 1
Paperback
Description
Light Yagami is an ace student with great prospects - and he's bored out of his mind.
But all that changes when he finds the Death Note, a notebook dropped by a rogue Shinigami death god.
Any human whose name is written in the notebook dies, and now Light has vowed to use the power of the Death Noteto rid the world of evil.
But when criminals begin dropping dead, the authorities send the legendary detective L to track down the killer.
With L hot on his heels, will Light lose sight of his noble goal...or his life?
This contains the first two volumes of Death Note.
Information
Format: Paperback
Pages: 400 pages
Publisher: Viz Media, Subs. of Shogakukan Inc
Publication Date: 28/12/2010
Category: Manga
ISBN: 9781421539645
Free Home Delivery
on all orders
Pick up orders
from local bookshops
Reviews
Showing 1 - 5 of 5 reviews.
Review by ElizaJane
16/06/2015
Reason for Reading: The plot line had me sold on this one right away.Wow! Wow! Wow! I was expecting a good story but I got a heck of lot more than I was prepared for. First of all, I was expecting a horror story and I guess, because of the supernatural angle, one could loosely term it horror. But when you get down to it, this is a wicked serial killer thriller with a supernatural element on the side. The serial killer's character and the detecting are much more the driving force of the story than the paranormal setting in which the story is based.A bored Shinigami, God of Death, leaves a Death Note on the ground for someone to pick up. Light Yagami, brilliant ace student, is the one who does so and the notebook contains information upon its use. When a person's name is written in the book they will die. The human owner of the notebook is also able to see the Shinigami owner and Light and Ryuk become constant companions, as Ryuk is here to watch what happens to brighten his otherwise boring existence.Ryuk, a creepy looking guy to say the least, has no powers that he is willing to use. He is not on Light's side, nor anyone's for that matter. He's simply a bystander, though he does give Light information now and then, at his own convenience. As Ryuk watches Light become both a serial killer and a mass murderer, killing first only criminals "who deserve to die anyway" and then killing more methodically to keep those who seek to track him down from finding him out, we become attached to his character. Light on the other hand, we watch descend into a pit of psychosis as the power he wields proves too strong for his character to bear. And then there is "L". The mysterious detective who is called upon occasionally to solve the unsolvable cases the police just can't solve. No one knows his real name, nor have they ever seen him, until now. "L" always gets his man and this time he takes on a small police task force and together the police do the legwork while "L" matches wits with Light to try and find the one mistake he has made that will let "L" capture him.An absolutely awesome thriller. I'm even more excited to have found this series now knowing it is a detective/serial killer/thriller more than a horror story. I am very interested in the three main characters. There is a lot of room for them to grow and expand and whether they stay on their current good/evil/neutral paths is something I am pondering. My favourite character at the moment is Ryuk. Yes! The god of death, can you believe it? He is actually quite funny and his ugliness grows on you by the end of the book. This is a must read for manga fans. A classic!
Review by TheLostEntwife
16/06/2015
It's my experience that, although short and easy to read in one setting, a good manga will force the reader to slow down and savor the story, not just through the words but through the graphics.It wasn't the graphics that slowed me down with Death Note, however, but that doesn't mean that it wasn't a "good" manga. What made this one different from others I read was the engaging, frightening social aspects of the story. While I could understand what Light's intentions were at the beginning of the story, as he became more and more embroiled in what he was doing I became more and more tortured inside. And then there's the emergence of L – the counterpart to Light.I thought I would dislike L, but as this game of chess continues through the story I am growing to enjoy him more and more. I am really excited to continue the story in the next two volumes and to find out the conclusion (I hope!) of this puzzling, exciting and fascinating story.Volumes 1 & 2 of the Black Edition of Death Note are fantastically bound and really bring the story together in a more cohesive manner than picking up four separate books of the story. I felt as if I was actually reading novels rather than graphic novels which I appreciated.
Review by TheDivineOomba
16/06/2015
A wonderful manga volume - it starts out typically, but quickly turns into a master detective vs master Criminal cat and mouse game. Nice graphics, fast paced story line, I immediately went out to by the next volume.
Review by a.stone5
16/06/2015
Death Note is a Japanese, murder mystery, graphic novel. It is a realistic fiction scenario where a notebook falls to Earth from the realm of the Gods of Death. Any human's name that is written into the notebook will die. There are ways to control the death and there are rules that the owner must abide by. This story follows the path of Light, who is determined to use the book for justice to cleanse the world of evil. However, this notebook might just turn Light into the very thing he is trying to exterminate. Very much a teen series due to the thought process involved in understanding the story and the resolution. Highly recommended!
Review by catfantastic
16/06/2015
I was really impressed with <i>Death Note</i> - I haven't seen the anime yet so this is my first exposure to the story - and the suspense and thriller elements, coupled with strong plotting, make for a gripping read. Despite the supernatural premise, the character's reactions are realistic and the moral issues raised are intriguing.The summary: a shinigami (death god) drops his notebook into the mortal world, where it is picked up a serious high school senior, Light Yagami. The owner of the notebook can kill anyone, as long as he knows their real name and what they look like, simply by writing their name in the book. A very solemn young man, a straight A student intent on following in his father's footsteps and becoming the head of the Japanese equivalent of the FBI, Light decides to put the notebook to what he perceives as good use - by ridding the world of criminals.Interpol notices the sudden rise in criminal deaths and brings in an expert detective, the Sherlock Holmes-esque "L." A battle of wits between Light and "L" begins, and Light begins to use the notebook to kill more than criminals - nobody who gets in his way is safe. Light's motivations are no where near as selfless as he tries to convince himself - and the reader - much to the amusement of the shinigami, who follows him around, invisible to anyone who has not handled the notebook. The shinigami's design is awesome - with his bulging eyes, exaggerated teeth and skull-like lack of a nose, he manages to be both terrifying and weirdly endearing as you get to know him. The artist, Takeshi Obata, is also able to communicate subtle emotions like despair elegantly, in the set of a character's shoulders or their stance as they walk away.The battle of wits between Light (nicknamed "Kira" by the public) and L is intense - they are both intelligent, each racing to be steps ahead of the other. It's marvellous to read. The danger the American FBI agents and Japanese task force are in, pitted against the ruthless Light a.k.a."Kira" is thrilling. If I have one quibble, it would be the treatment of the female characters. Light's mom, sister and girlfriend are all vacuous simpletons. Naomi Misora, the fiancé of one of the FBI agents, used to be an agent herself until she got engaged. Despite the fact that she's far better at the detective work than her boyfriend, when she offers her insights on the case he shoots her down because . . . <i>"you're here now as my fiancé and nothing else."</i> (p. 102) and then he goes on to say: <i>". . . once we have a family, you'll be so busy you'll forget you ever were an agent. You won't have the time for that habit to pop up anymore."</i> Seriously? <b>Seriously?!?! </b>I find it hard to believe any woman would put up with that bullshit, let alone a woman tough enough to become an <i>FBI agent.</i> It wouldn't bother me so much except that we're supposed to like this guy. Naomi proves herself more capable than any of the other investigators, coming far closer than any of them to finding out Kira's identity, yet she ends up getting duped by him by a really simple trick. But anyways, I really did enjoy this - a gripping plot, the competition of wits between the evenly matched "Kira" and "L" and the twisted nature of Light's internal reasoning - he sees himself as an avenging angel, when he's really a serial killer - make for an unputdownable read. I can definitely see why this series is as popular as it is and I want to check out the anime version after reading this.
Also in the DEATH NOTE BLACK series | View all