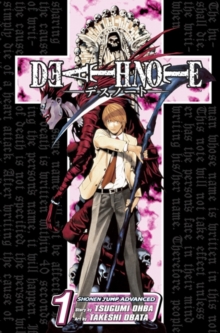 Death Note, Vol. 1
Paperback
Description
Light Yagami is an ace student with great prospects - and he's bored out of his mind.
But all that changes when he finds the Death Note, a notebook dropped by a rogue Shinigami death god.
Any human whose name is written in the notebook dies, and now Light has vowed to use the power of the Death Noteto rid the world of evil.
But when criminals begin dropping dead, the authorities send the legendary detective L to track down the killer.
With L hot on his heels, will Light lose sight of his noble goal...or his life?
Light tests the boundaries of the Death Note's powers as L and the police begin to close in.
Luckily Light's father is the head of the Japanese National Police Agency and leaves vital information about the case lying around the house.
With access to his father's files, Light can keep one step ahead of the authorities.
But who is the strange man following him, and how can Light guard against enemies whose names he doesn't know?
Information
Format: Paperback
Pages: 200 pages
Publisher: Viz Media, Subs. of Shogakukan Inc
Publication Date: 01/10/2005
Category: Manga
ISBN: 9781421501680
Other Formats
Paperback from £8.35
Hardback from £9.89
Free Home Delivery
on all orders
Pick up orders
from local bookshops
Reviews
Showing 1 - 5 of 28 reviews.
Previous | Next
Review by imayb1
16/06/2015
Death Note is like a mystery story told from the point of view of Sherlock Holmes arch-rival, Moriarty. Interestingly, the "evil" perpetrated by the main character, is in kind of a grey area in the beginning. As the series progresses, he becomes more willing to commit true evil. It's a story full of psychological mind games and supernatural, thus, very enjoyable.
Review by tapestry100
16/06/2015
Light Yagami, ace student and top of national charts with his test scores, is bored with everything, but that changes one day when he discovers the Death Note of the shinigami (death god) Ryuk, who is equally bored with his existence and dropped his Death Note on purpose in the human world, just to entertain himself. When Light discovers the purpose of the Death Note, that by writing a person's name, the way they die and the time that they will die in the Death Note and that person will die in that manner, he decides to take it upon himself to rid the world of its criminals and force the world to be a better place. However, he quickly becomes deluded into thinking that he will be able to rule the world as Kira, the Savior; that he will be able to exact judgment on whomever he feels is unworthy of living.Obviously, the world's police forces take notice of the growing number of deaths of the criminals, both imprisoned and free, and decide that Kira needs to be held responsible for the deaths of so many, even if they are criminals. The mysterious super-sleuth L, who has never shown his face to anyone, decides that he need to team up with the police to help them track down this killer. A fast-paced game of cat and mouse ensues as Kira and L try to discover more about each other, as neither have shown their faces, while Ryuk sits on the sidelines, enjoying his entertainment.I find the story intriguing and the plot is original. This first installment moves along rather quickly, setting up the key characters and plot points, but given that the series is 13 volumes long, there will still be plenty of story to be told, so I don't feel that it was rushed for no reason; I think Tsugumi Ohba simply didn't want to waste a lot of time introducing the main characters. This is my first real experience with Manga in general, so for all I know all series are started like this.The art is fresh and crisp, and it is not hard to follow at all, even with the story running backwards to Western eyes (the story reads from right to left). Printed entirely in black and white line art with some shading, Takeshi Obata's style lends itself perfectly to the pacing of the story. I'd be interested to see some more of his work sometime.An intriguing and unique story told in a nice, clean presentation, I'm really interested to see where the story of <i>Death Note</i> goes from here.
Review by ohioyalibrarian
16/06/2015
Wow! This is great. I couldn't put it down. A genius teenager find a "death note," the notebook of a Japanese Death God. It allows him to kill instantly anyone whose name and face he knows. He decides to rid the world of evil by killing all criminals. But, in exercising so much power, does he begin to slide into evil himself? Mesmerizing.
Review by tiamatq
16/06/2015
Light Yagami is a serious straight-A student from Japan with great prospects. Ryuk is a shinigami, a death god, with nothing but time on his hands. Both Light and Ryuk are bored with their worlds. Then Light finds Ryuk's Death Note, a notebook with the power to kill anyone who's name is written within. Of course, there are rules that must be obeyed when using the Death Note. But Light sees it as a tool that he can use to create a utopia, ridding the world of criminal, and he can rule over it. Ryuk sees a chance to be entertained. When criminals begin to mysteriously die all over the world, the police and the enigmatic detective L begin searching for the killer, dubbed by the media as Kira.This is the first volume of Death Note, and it gets the ball rolling quickly. Light is a chilling character. He honestly believes that what he's doing will make the world a better place and, though he first struggles with the powers of the Death Note, he quickly becomes corrupted by its power. Light sees the world in terms of black and white. Ryuk provides commentary and reflection on Light's actions (an interesting role for a death god), acting as a sort of chorus. He sometimes fills in the gaps between Light's plots and how they play out in the manga. If there's anything I don't care for in Death Note, it's Light's incredible intellect. Yes, it's established that he's a genius and has amazing analytical skills. However, nothing seems to catch him off-guard. Even when Ryuk presents him with information he couldn't have possibly guessed about the Death Note, we only see Light briefly sweat it out and then just shrug the shock off. Light is still a teen and, even though he's confident and believe himself to be righteous, I'd think he'd be a little more flustered at times.However, the story line is very interesting, raising questions about abuse of power and right and wrong. The artwork is incredible. You become more comfortable looking at the shinigami, who are very open about what they are, instead of Light, who goes from sweet and optimistic to manic.
Review by chibikame
16/06/2015
A series defintely not for the younger reader, Death Note is anything but typical. Light Yagami finds a notebook that will allow him to kill anyone by writing their name down in it. He is not the average hero you find in Shonen Jump titles, he is the opposite. The great thing about Death Note is that Ohba weaves a brilliant tale to make you root for the police one minute and Light the next. With detailed artwork from Obata (Hikaru No Go) and an engrossing storyline, it's no wonder Death Note has become a worldwide sensation.*Note, this series includes extreme violence, murder, adult situations, etc. It is a reading-intensive graphic novel, not for one who just want pretty pictures. You will get that as well, but it is a 'thinking' manga, packed with internal monologues and intense descriptions.
Also in the Death Note series | View all