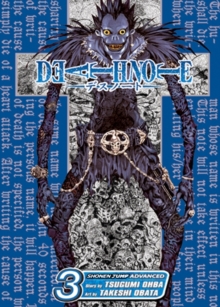 Death Note, Vol. 3
Paperback
Description
Light is chafing under L's extreme surveillance, but even 64 microphones and cameras hidden in his room aren't enough to stop Light.
He steps up the game, but before the battle of wits can really begin, a family emergency distracts him.
But even though Light isn't using the Death Note right now, someone else is!
Who's the new 'Kira' in town?
Information
Format: Paperback
Pages: 200 pages
Publisher: Viz Media, Subs. of Shogakukan Inc
Publication Date: 03/01/2006
Category: Manga
ISBN: 9781421501703
Free Home Delivery
on all orders
Pick up orders
from local bookshops
Reviews
Showing 1 - 5 of 6 reviews.
Previous | Next
Review by tiamatq
16/06/2015
Picking up from vol. 2, this volume of Death Note opens with Light being closely scrutinzed by L and the task force. What they can't see, however, is Ryuk, the shinigami. Though he's supposed to be a neutral party, Ryuk's love of apples has gotten the best of him, and Light is able to blackmail him into helping outwit the police. However, L realizes that Light is one of the most promising suspects, and continues to follow and challenge him. As the two confront each other face to face, one of Kira's supporters decides to take action.This volume pokes a little fun at itself, despite the story's serious tone. L recognizes that the Yagami household is so squeaky clean (in appearance as well as attitudes) that it's cause for suspicion. Light makes a joke at one point about second and third guessing Kira and L's actions. Ryuk also lends a little comedy to the story (apparently shinigami's withdrawal symptons involve knotting up like a pretzel).We also get to see a different side of Light; when L personally confronts him, Light becomes frustrated and violent. Though he believes that finding the Death Note has made him truly happy, we see the incredible stress taking its toll, as well as Light's need to win. For the first time since Ryuk's appearance, Light seems to be cracking. We also get to see how Light reacts to tragedy and accusations within his own family. It's hard to tell at this point if he's protective of his family members, or it's all part of the act.Still a great series... I can't wait to see more about Misa.
Review by pivic
16/06/2015
OK, now we're catching speed again! In spite of what previously happened in volume 2, this volume increases the tempo, or should I say, tempi. I'm really looking forward to the other volumes.
Review by ShadowLink97
16/06/2015
Death note is a very good series of books but i got kinda bored by the third volume, personally i think the anime is better
Review by Kassilem
16/06/2015
I'm not sure what to make out of this book. Light seems contradictory. He says he is killing off violent criminals to make the world a better place and that it's right thing to do. That is a world where the wicked die, everyone will be good. But is murder the righteous thing to do? I think this series will be all about that. It's intriguing. I'm puzzled with Light. I don't particularly like him, but at the same time I want to know more. I'm not really sure who I'm rooting for yet, Detective L or Light. Weird, and a bit unnerving. I'll be reading more, simply for the sake of finding out more.
Review by blog_gal
16/06/2015
Rating: 5/5<br/><br/>This is one of my favorite manga series. I have watched the anime series and I really enjoyed it so I decided to read the manga series. The author of this series has planned out every scene very well. He is great at suspense and well placed plot development. Each volume adds something significant to the overall plot. I am so pleased with the author and the illustrator of this series.
Also in the Death Note series | View all