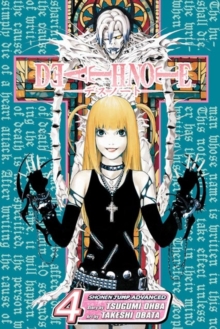 Death Note, Vol. 4
Paperback
Description
Light Yagami is an ace student with great prospects - and he's bored out of his mind.
But all that changes when he finds the Death Note, a notebook dropped by a rogue Shinigami death god.
Any human whose name is written in the notebook dies, and now Light has vowed to use the power of the Death Noteto rid the world of evil.
But when criminals begin dropping dead, the authorities send the legendary detective L to track down the killer.
With L hot on his heels, will Light lose sight of his noble goal...or his life?
With two Kiras on the loose, L asks Light to join the taskforce and pose as the real Kira in order to catch the copycat.
L still suspects Light, and figures that this is the perfect excuse to get closer to his quarry.
Light agrees to the plan in order to have free access to the taskforce resources.
But when Light manages to contact the new Kira, he discovers that his rival is anything but as expected.
Will Light escape from love unscathed?
Information
Format: Paperback
Pages: 208 pages
Publisher: Viz Media, Subs. of Shogakukan Inc
Publication Date: 01/03/2006
Category: Manga
ISBN: 9781421503318
Free Home Delivery
on all orders
Pick up orders
from local bookshops
Reviews
Showing 1 - 5 of 6 reviews.
Previous | Next
Review by tiamatq
16/06/2015
The last volume ended with a bit of a cliffhanger... someone besides Light possesses a Death Note and has made the deal for shinigami eyes. This second Kira is eager to meet the original, and L and the task force hope to intercept copycat before Kira can. Of course, Light is still active on the task force. When the second Kira reveals herself (gasp!) to Light, he must decide how best to use her and her shinigami.Okay, so getting down to specifics, Misa (the second Kira) reveals herself to the police and then Light, confessing her love for him. She not quite what anyone expected. Compared to super geniuses (Wile E. Coyote-style) like Light and L, Misa isn't nearly as clever, but she's no dummy. She's unpredictable as well, being much more emotional than Light, and having the power of shinigami eyes. Her shinigami, Rem, is the complete opposite of Ryuk - forthcoming, patient, caring, and protective. Light isn't prepared to handle this curveball, and we see him acting more and more on the defensive.Still, you can't help but feel that L is also struggling with the investigation. There's an interesting exchange between L and Light, where they talk about being friends. While you know that Light is just playing a part, you do feel for L, who seems lonely. He also contemplates his own mortality, knowing that he should concentrate on what he can do instead of letting the fear of death control him. I think this volume's shift in focus - away from Light and Ryuk and on to L, Misa and Rem - was effective. While L has grown on me over the past three volumes, I liked Misa and Rem almost right away. Perhaps it's that they aren't as calculating as the other characters, but rather plain about their feelings. I'm looking forward to the next volume, especially after this new cliffhanger.
Review by pivic
16/06/2015
Once again, Death Note takes new twists and turns, but no prior volume has been this drastic; the plot re-shapes and characters are growing more complex, especially since volume 3. This is shaping up for massive drama. The art is near-impeccable as far as I've discovered manga, as related to the western graphic novels I've read much of previously.
Review by polarbear123
16/06/2015
We are definitely back on track with this edition to the deathnote series after a rather lacklustre 3rd book. Misa is a great character to add to the series and the plot gets better and beter once Light and Misa meet. I found myself laughing out loud at some of Misa's crazy actions. I was dipping a little with my enthusiasm for this series but this one has definitely spurred me on to read number 5!
Review by Kassilem
16/06/2015
I'm not sure what to make out of this book. Light seems contradictory. He says he is killing off violent criminals to make the world a better place and that it's right thing to do. That is a world where the wicked die, everyone will be good. But is murder the righteous thing to do? I think this series will be all about that. It's intriguing. I'm puzzled with Light. I don't particularly like him, but at the same time I want to know more. I'm not really sure who I'm rooting for yet, Detective L or Light. Weird, and a bit unnerving. I'll be reading more, simply for the sake of finding out more.
Review by blog_gal
16/06/2015
The plot of this series is so rich and complex! I cannot wait to see what happens in the next volume.
Also in the Death Note series | View all