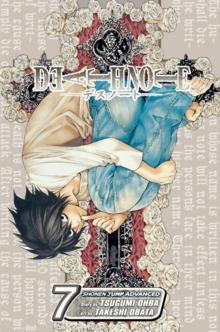 Death Note, Vol. 7
Paperback
Description
Light Yagami is an ace student with great prospects, and he's bored out of his mind.
But all that changes when he finds the Death Note, a notebook dropped by a rogue Shinigami death god.
Any human whose name is written in the notebook dies, and now Light has vowed to use the power of the Death Noteto rid the world of evil.
But when criminals begin dropping dead, the authorities send the legendary detective L to track down the killer.
With L hot on his heels, will Light lose sight of his noble goal...or his life?
After a high-speed chase, Light and the taskforce apprehend the newest Kira.
Light regains his Death Note and his memories, and the depths of his cunning are revealed as the plans he carefully put in place before going into confinement are slowly unveiled.
His masterful manipulation of both humans and Shinigami lead him to the strongest position he's yet enjoyed.
But the glow of his victory is marred when a new threat appears.
Can Light withstand a surprise attack on two fronts?
Information
Format: Paperback
Pages: 208 pages
Publisher: Viz Media, Subs. of Shogakukan Inc
Publication Date: 01/09/2006
Category: Manga
ISBN: 9781421506289
Free Home Delivery
on all orders
Pick up orders
from local bookshops
Reviews
Showing 1 - 5 of 7 reviews.
Previous | Next
Review by Rhinoa
16/06/2015
Things are getting very complicated and I am reluctant to give too much of the plot away. Basically Light gets back his Shinigami and Death Note powers and continues his games with L whose time on the investigation into Kira is now numbered. Two new characters are introduced who join the investigation, but go about their roles in very different ways. Misa continues to be a pawn in Light's greater goal and a whole new storyline opens up as a major chapter closes and a new one opens.I really liked the first half of this manga, but events happened which I don't believe to be true (or at least I hope not). I'm not sure about the new characters but will see how things begin to unfold in the next installment. It's still very clever, but if the plot twist is true I may start to lose interest sadly.
Review by tiamatq
16/06/2015
I got the feeling some bad stuff is about to go down! If you haven't read the previous volumes of Death Note, there's spoilers ahead...The third Kira. Higuchi, has been tracked down and this volume opens with him surrounded by police, including L and Light. When he reveals the secrets of the Death Note, police confiscate it and are suddenly able to see the shinigami, Rem. Light also comes into contact with the Death Note and all of his memories return, revealing an elaborate plot that started several volumes back. Without letting go of the Death Note, Light must kill Higuchi or risk losing all his memories again. As this volume goes on, there's a huge plot twist that leads to Light's biggest victory yet...Unlike many other Death Note volumes, this one plunges into the action with the tense standoff between Higuchi and the police. The task force must grapple with the fact that they're dealing with a supernatural being, but they seem to accept Rem and the Death Note's properties fairly quickly. If you were ever on the fence with liking Light or not, this volume will probably push you over the edge... before it's finished, a few major characters will be gone and the story will have advanced to the year 2009. We learn more about L and Watari's background and meet two of L's protegies. This is a major turning point in the series!
Review by pivic
16/06/2015
So, it all swung 'round. With the knot getting tighter the Kiras with - ironically - Light and L getting closer, the NPA bungled and a major change as a Japanese corporation is warped into this story, the story concentrates and turns into something quite different. When you've read this volume things will definitely have changed a lot!
Review by JonathanGorman
16/06/2015
SPOILER ALERT:some interesting twists in the series. I'm not sure how they will pan out. I'd like to have seen a little introspection and maybe some clue if by merely holding the death note a person's personality can change. Or at least seen some personal examination as Light memories leave and come back.
Review by polarbear123
16/06/2015
Sometimes I get frustrated with this series. Sometimes I think there is far too much explaining of the plot lines and the different theories that all of the characters have which has a tendency to slow the action down. Then I read other manga books and remember that this series is far superior to anything else manga. It's as simple as that. If you want to try manga out try this.
Also in the Death Note series | View all