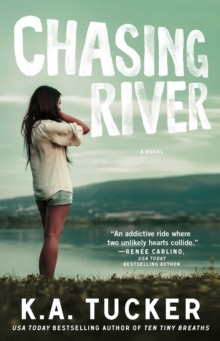 Chasing River : A Novel
Paperback
Description
Armed with two years' worth of savings and the need to experience life outside the small bubble of Sisters, Oregon, twenty-five year old Amber Welles is prepared for anything.
Except dying in Dublin. Had it not been for the bravery of a stranger, she might have.
But he takes off before she has a chance to offer her gratitude.
Twenty-four year old River Delaney is rattled. No-one was supposed to get hurt. But then that American tourist showed up. He didn't have a choice, by he also can't be identified at the scene.
So, he ran. Back to his everyday life of running his family's pub.
Only, everyday life is getting more and more complicated thanks to his brothers, Aengus, and his associations.
When the American girl tracks River down, he's quick to realise how much he likes her, how wrong she is for him. And how dangerous it is to have her around him. Chasing her off would be a smart move. Maybe it's because he saved her life, maybe it's because he's completely different from everything she's left behind, but Amber finds herself chasing after River Delaney.
Amber isn't the kinds of girl to chase after anyone. And River isn't the kind of guy she'd want to catch.
Information
Format: Paperback
Pages: 336 pages
Publisher: Atria Books
Publication Date: 07/07/2015
Category: Romance
ISBN: 9781476774237
Free Home Delivery
on all orders
Pick up orders
from local bookshops
Reviews
Showing 1 - 3 of 3 reviews.
Review by brandileigh2003
27/08/2015
3.5 (liked it a lot) I wanted to read Chasing River because I enjoyed the first two books in the series, and her other NA series. She writes perfectly flawed characters that are easy to love, and an addictive plot. I love the premise of River saving Amber and that being the catalyst for their romance. He dove in front of a bomb to knock her down and shelter her and then he ran because it was his brother who planted the bomb. The beginning for me was a little slow while in the POV of River, maybe it was the accent and word choices that aren't familiar, or maybe another factor, but soon enough I liked hearing his thoughts. Amber is Jesse's sister from the previous series. She is a nurse and known by a lot of the town as the sheriff's daughter, so she felt a lot of pressure growing up to not let down her dad, his image, or the one she percieves as herself. But she is traveling around for a few months because she has dreamt of it for years. Ireland surely wasn't what she'd planned though, from the bomb, the gorgeous guy who saved her from dying or much worse injuries, to making a new friend of a girl she went to high school with but they both had animosity towards the other for misunderstandings as they came to realize once they talked about it. River helps run his family's pub, and he loves the culture, the closeness with his younger brother who works day to day with him, and his parents who run the business end. But he has the black sheep of the family, his older brother, who is a part of the IRA, what was once a resistance group fighting for a better Ireland, but now terrorists just using the prestige of the name. River loves Aegnus, his brother, but can't get him free of the trouble that he's wrapped up in. But he's family so River tries to protect him as much as he can, because of all of the things that Aegnus is not, he is loyal. Amber can't get the handsome guy out of her head that saved her and then ran, and a few chance encounters with a local to their pub leads her to him. The intensity of what they experienced together and the closeness and attraction they felt in the moment where River saved her causes an intense bond and neither can shake the memory of the other. So when she walks in it sets off the series of events that lead them even closer together and finding their time focused on the other. Though it is insta-love pretty much, explained a bit by the circumstances that they met. Amber tries to hold on to her rational mind. At first, she thought maybe he would be a perfect candidate for the first item on her travel bucket list-- have a torrid affair with a foreigner. But the more time they end up spending together, the more they want to stay together longer. Through a series of events that left me pretty speechless, but can't talk about much here without spoiling, violence didn't end with that first bomb, and both River and Amber have to make some hard choices when their run ins with the garda, the law enforcement, won't leave them alone about the bomb and subsequent violence, because Amber is protecting River, and River is trying to protect Aegnus. When Amber learns some truths about her dad, some that she would never expect in regards to her brother, it helps her understand more about what River was feeling with his brother, but also gave her insight on when its okay to bend or break the law to protect people you love and when you have to let natural consequences be the guide. Though Amber does miss one of the countries that she intended to visit, I did like that she took her dad's advice about some space before making big decisions about her future with River and if Ireland could be her new home someday. She got a lot of perspective and I really like the decisions she made. I loved that this was set in another country and that Tucker made it natural that River and Amber would have conversations about the rich history, and how much Amber and many who aren't natives don't know about the history and background. That there is so much more to the country than accents, the blarney stone, and tourist hot spots. The ending was perfect and the epilogue made it even better because we got to see how time changed their relationship and places Amber was putting down roots, and that for some that would have been the end of a relationship, the distance, time apart, and such, but for others it only reveals how much they love and want to be with.Bottom Line: Nice love story, liked the foreign setting and history involved.
Review by B.J.O.
27/08/2015
4.5 "Fall in Love with a Foreigner" Stars! Lovers of the Burying Water Series will not want to miss KA Tucker's latest installment, Chasing River. Providing a familiar theme--an arguably badboy hero who is willing to reform his questionable ways for love--in an all new setting--the politically fraught backdrop of Ireland; Ms. Tucker manages to keep this series fresh and new, while still providing an overarching unifying theme.For those of you who have not had a chance to read the prior books in the Burying Water Series, no worries. As Chasing River fully contains both the entire underlying danger filled plot and the love story of the hero and heroine within its pages, and therefore can be easily read as a standalone. For those of you who have read this series, however, the heroine, Amber Welles, is the sister of Jesse Welles, the hero from the first book, Burying Water. Amber has always been the good girl. Having previously always settled for the golden boy, and still having failed to find true love, she is determined on discovering herself while taking a sabbatical, from her nursing career in Oregon, to travel abroad. On that journey she finds herself in Dublin, Ireland where she very nearly prematurely ends, not only her trip around the world, but almost her very own life when she happened to be in the wrong place at the wrong time.Fortunately for Amber, before River even meets her, a split second decision, driven by his conscience, causes him to risk everything to save her. Just as quickly as he appears in her life, however, River disappears leaving Amber full of questions. As fortune would have it, a glimpse of a memory allows Amber to find her savior, but the more she gets to know him, the more she begins to question just how much of a saint he is. Nonetheless, she can't help but feel their chemistry. Should she indulge that connection, or run away from the imminent danger that no doubt lurks near him? Moreover, with only a few days remaining in her stay in Dublin, just what kind of a future could they possibly have anyway? Having previously highly enjoyed Burying Water and Becoming Rain, I was confident that I would enjoy the romance and danger tinged background that would no doubt be contained in Chasing River. Fortunately, I was not disappointed, but perhaps what I enjoyed the most, and which was completely unexpected, was the interesting view into Irish politics. Ms. Tucker does a fantastic job of not only laying out the sordid history between the Catholics and Protestants and horrible events that shaped Ireland's history, such as the potato famine, but she also provides an interesting glimpse into the current state of continuing political unrest. All in all, Chasing River is an interesting addition to the Burying Water Series. Now I can't wait to read Surviving Ice which is scheduled for release later this year. Source: Review copy provided in exchange for an honest review.
Review by DarkFaerieTales
27/08/2015
Review courtesy of Dark Faerie TalesQuick & Dirty: Beautiful romance filled with a lush Irish setting and wonderful history. There were a few things that I didn't love but overall this was a great read!Opening Sentence: I weave around men and women alike with barely a pardon, struggling not to lose Aengus, nor to let on that I'm tailing him.The Review:Amber Welles has finally decided that it is time to expand her horizons. She has never really traveled much and she still lives in the small town she grew up in. After the ending of a serious relationship she decides it is time to do something she has always dreamed about. She is going to take a long trip and travel through Europe. Her trip is going just as planned and she is having a fabulous time until she is almost blown up. She is currently in Dublin, Ireland and late for her tour bus so she decided to take a short cut through St. Stephens Green when a pipe bomb explodes right by her. Lucky for her a very handsome stranger comes to her rescue, but before she has a chance to thank him he runs off. She isn't injured, but she can't stop thinking about the mysterious boy that saved her life and she is determined to find him.River Delany has lived his whole life in Ireland and he helps to run a pub that has been in his family for generations. He was in St. Stephens Green that day because he knew his older brother Aengus was up to no good. River thought that once Aengus got out of prison he would change his ways, but instead he has gone right back to the terrorist group he was a part of before his imprisonment. He planted a pipe bomb to scare a rival gang, but no was suppose to be around when it went off. Luckily River was there to save the American tourist, but he didn't stick around after because he doesn't have the cleanest record. Now the beautiful American girl has tracked him down, and even though he knows that he's no good for her he can't seem to stay away.Amber is sweet girl and she was very easy to like. I loved that she took the initiative to follow her dreams to travel. Most people would just ignore the urge and live their life like everyone expects you too, but I respected that Amber did what she wanted even though her family and friends thought it was crazy. Branching out and leaving home was a really big deal for Amber because she has never done anything like it in her life. She is a planner, but she also had a sporadic streak in her personality that made her a little unpredictable. But the thing I liked best about her was that she is a lost girl trying to figure out her life. Her flaws made her a much more realistic character and they made her easier to relate to. I really enjoyed watching Amber discover herself and become the person she wanted to be.River is a sexy guy that is totally swoon worthy. He is very loyal and I loved how patriotic he is. He is proud of his Irish lineage and he's not afraid to talk about it. His relationship with his family is very endearing and it made him even more attractive. He is quite the charmer when he wants to be, but he isn't really a player which I liked. His past is obviously full of some serious mistakes, but he learned from then and has turned his life around. The relationship between Amber and River is pretty intense. They have an instant connection and there is some pretty hot chemistry between them. But I felt like their relationship developed quicker then I would have preferred. I still loved their romance, I just wish it wouldn't have felt so rushed.Chasing River was a great read filled with steamy romance, great drama, and loveable characters. Probably my favorite thing about this book was how Tucker integrated all the historical things about Ireland. I actually learned a lot of new things about this country while being totally entertained by the story. That to me takes a great talent and not many authors can pull it off as well as Tucker did. Her writing is beautiful and she does a wonderful job of keeping you totally engrossed in her stories. The one complaint I did have was that I felt like the romance was rushed and it was a little overpowering. I realize that this was a romance novel, but I wish the subplot would have been featured more. I liked the idea of the whole terrorist/gangster vibe that was present, I just wish it would have been explored a little bit more. Overall, I found this to be a very enjoyable read and I would highly recommend it to new adult contemporary romance fans.Notable Scene:The second we locked eyes, I knew it was him. Those eyes, I don't think I'll ever forget them. Except they were deeper, greener than I remembered, like the lush highlands that decorate the Irish tourism magazines. Couple them with a wide, playful smile and an angular jaw hidden behind a few days' worth of golden scruff, and his face is a perfect blend of handsome features. And I had forgotten his voice—masculine yet melodious, his rich Irish accent obvious not overbearing.River … It's an odd name, and yet it seems to suit him.FTC Advisory: Atria Books/Simon & Schuster provided me with a copy of Chasing River. No goody bags, sponsorships, "material connections," or bribes were exchanged for my review.
Also in the The Burying Water Series series | View all