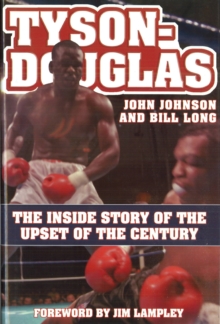 Tyson-Douglas : The Inside Story of the Upset of the Century
Hardback
Description
No one gave James "Buster" Douglas much of a chance when he faced "Iron" Mike Tyson on February 11, 1990, in the Tokyo Dome.
Tyson was Godzilla, and Buster wasn't expected to be anything more than a moth for Tyson to swat away, much less Mothra.
Douglas had four losses already and 42-1 odds against him in this bout.
One reporter, going through Japanese customs, announced he was in town for business.
When asked how long he would be working, he laughed and responded "Oh, about a minute." The match lasted longer than that, though.
When it was over, it was the greatest upset in boxing history.
Buster Douglas was the new heavyweight champion of a shocked, surprised, and stunned world.
Here is the inside story of just how the biggest of underdogs, dealing with the recent death of his mother, dethroned the invincible Tyson.
John Johnson, Douglas's manager for this slugfest and most of his career, takes the reader into the ring in Tokyo and details the beginning of Douglas's career - how he positioned himself to be the champ - as well as the post-fight fall that started with a loss in his first defense of the title.
Johnson and coauthor Bill Long interviewed people who were in the ring, at ringside announcing the match, and in the crowd both covering the bout or just watching it for the expected devastation.
Announcers Jim Lampley, Larry Merchant, and Sugar Ray Leonard discuss their memories, and men in both corners detail the in-fight machinations for both Tyson and Douglas.
Mike Tyson's loss to Buster Douglas truly rocked the world and threw heavyweight boxing into a tumult that still resonates today.
Free Home Delivery
on all orders
Pick up orders
from local bookshops