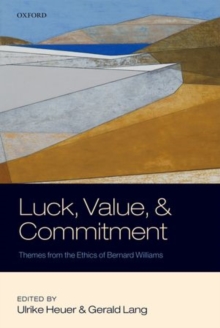 Luck, Value, and Commitment : Themes From the Ethics of Bernard Williams
Hardback
Description
Luck, Value, and Commitment comprises eleven new essays which engage with, or take their point of departure from, the influential work in moral and political philosophy of Bernard Williams (1929-2003).
Various themes of Williams's work are explored and taken in new directions. In their essays, Brad Hooker, Philip Pettit, and Susan Wolf are all concerned with Williams's work on the viability or wisdom of systematic moral theory, and his criticism, in particular, of moral theory's preoccupation with impartiality.
David Enoch, Joseph Raz, and R. Jay Wallace address Williams's work on moral luck, and his insistence that moral appraisals bear a disquieting sensitivity to various kinds of luck.
Wallace makes further connections between moral luck and the 'non-identityproblem' in reproductive ethics. Michael Smith and Ulrike Heuer investigate Williams's defence of 'internalism' about reasons for action, which makes our reasons for action a function of our desires, projects, and psychological dispositions.
Smith attempts to plug a gap in Williams's theory which is created by Williams's deference to imagination, while Heuer connects these issues to Williams's accommodation of 'thick' ethical concepts as a source of knowledge and action-guidingness.
John Broome examines Williams's less-knownwork on the other central normative concept, 'ought'. Jonathan Dancy takes a look at Williams's work on moral epistemology and intuitionism, comparing and contrasting his work with that of John McDowell, and Gerald Lang explores Williams's work on equality, discrimination, and interspecies relations in order to reach the conclusion, similar to Williams's, that 'speciesism' is very unlike racism or sexism.
Information
Format: Hardback
Pages: 350 pages
Publisher: Oxford University Press
Publication Date: 14/06/2012
ISBN: 9780199599325
Free Home Delivery
on all orders
Pick up orders
from local bookshops