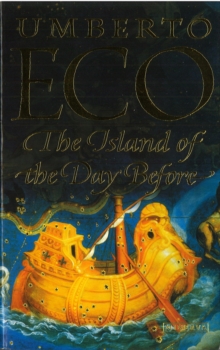 Island Of The Day Before
Paperback
Description
The year is 1643. Roberto, a young nobleman, survives war, the Bastille, exile and shipwreck as he voyages to a Pacific island straddling the date meridian.
There he waits now, alone on the mysteriously deserted Daphne, separated by treacherous reefs from the island beyond: the island of the day before.
If he could reach it, time - and his misfortunes - might be reversed.
But first he must learn to swim...
Information
Format: Paperback
Pages: 528 pages
Publisher: Vintage Publishing
Publication Date: 01/10/1996
ISBN: 9780749396664
Free Home Delivery
on all orders
Pick up orders
from local bookshops
Reviews
Showing 1 - 5 of 5 reviews.
Review by tronella
16/06/2015
I discovered Eco's books when Dad picked up a copy of Foucault's Pendulum at a jumble sale because the cover looked interesting, and now I'm hooked. As always with his books (in my experience) it took a while to get into it - for some reason I always end up reading them incredibly slowly, although with Foucault's Pendulum that was at least partly because a large amount of it wasn't in English. But it was worth the effort.The initial setup is that the protagonist, Roberto, is trapped on a wrecked ship a mile from an island surrounded by a coral reef inhabited by poisonous fish, and he can't swim, and the book is supposed to be a sort of biography (although with a lot of artistic licence), based on the letters he wrote to the woman he loved while trapped there.I can't say I enjoyed it as much as Foucault's Pendulum, or The Name Of The Rose - it was a bit slower, since the setting didn't allow for much action, and it wasn't really to my taste. But there was a lot of... historical background, and things about the science of the age (17th century) which was interesting.The ending seemed a bit strange, at first. But in retrospect, I think that any other ending would have been disappointing.
Review by lewispike
16/06/2015
Back to being too overwritten for me. I don't really remember this one too clearly, I do remember being underwhelmed.
Review by oduma
16/06/2015
Disapointing from literary point of view, but interesting for the historical information. Higlights extremly well the spirit of the era, but the plot is composed out of several threads that are forced together in a manner that seems like a violation of the book.Unfortunately there are a number of situations and characters that are completly not used in the plot and it makes you wander why they are there?
Review by sharonlflynn
16/06/2015
I found this a really tough read. Some parts were interesting, but overall, for me, it dragged.I am so relieved that I made it through to the end - though it took me about 3 months to do so.Maybe I'll try reading it again in the future with more success. Maybe it was just a really bad time for me.
Review by Rise
16/06/2015
There is too much philosophizing and painstaking narration which can derail the interest, though I must say that the prose is often imaginative. There's lots of awesome descriptions and amusing digressions (on astronomy, physics, Christianity). Eco's agility as a storyteller is evident from his skillful juggling of too many scientific, historical, and philosophical ideas.Eco luxuriates in lyrical language. His sentences are laden with details. The passages are also impressive, but the narrative somehow lacks a door latch that the reader can hold onto. I feel at first like a blind bat in need of the powers of echolocation. I also feel shipwrecked myself.The book explores some of the foundations of scientific thought, and most of it is presented as a drivel by Father Caspar (in Master Yoda-speak), who doggedly adheres to the geocentric view that the Earth is the center of the universe. There are already indications of the nascent thinking of Copernicus, Einstein's relativity postulates especially on the frame of reference, some hints of present-day debates on intelligent design and creationism.The book in parts is, to mimic its double-edged mannerism, technically exasperating or exasperatingly technical. What is exasperating is that the science is too old-fashioned and too outdated. That, for me, is what is admirable with it. I liked the way Eco attempts to role-play arguments of mad philosophers and mad scientists (they seem to be interchangeable).Eco seems to be documenting the naiveté in scientific thinking and approaches in 17th century, and it is religion that is often the culprit in contaminating the progress of astronomy and natural sciences. Indirectly, the absurdity of religion influences scientific methods and approaches. Religion kills the objectivity of science and yet it propels it to invention, experimentation, and discovery.On the literary front, The Island has too many to offer. The playfulness of the free indirect style, the double (In some ways, the reader is The Other too), the (slightly) intrusive narrator who wrote this novel as an 'interpretation' of Roberto's writings, the open-ended conclusion. It has something to say about time, the nature of time, direction of time, the arbitrariness of scientific theories, the subjectivity of science. For a book about "emblems and devices" it has masterfully crafted symbols, most notably the Orange Dove and the unattainable Island.Overall the book is impressive not so much for the writing (which is often boring), but for the ambition (which is vaulting). It has moments and passages that come alive like jewels. It is, in some ways, a tropic novel of sunlight, not the dreary old-fashioned novel bathed in darkness, although it is old-fashioned, perennially old-fashioned.