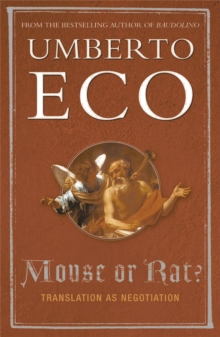 Mouse or Rat? : Translation as Negotiation
Paperback
Description
From the world-famous author of THE NAME OF THE ROSE, an illuminating and humorous study on the pleasures and pitfalls of translation.'Translation is always a shift, not between two languages but between two cultures.
A translator must take into account rules that are not strictly linguistic but, broadly speaking, cultural.'Umberto Eco is of the world's most brilliant and entertaining writers on literature and language.
In this accessible and dazzling study, he turns his eye on the subject of translations and the problems the differences between cultures can cause.
The book is full of little gems about mistranslations and misunderstandings.For example when you put 'Studies in the logic of Charles Sanders Peirce' through an internet translation machine, it becomes 'Studies in the logic of the Charles of sandpaper grinding machines Peirce'.
In Italian 'ratto' has no connotation of 'contemptible person' but denotes speed ('you dirty rat' could take on a whole new meaning!)What could be a weighty subject is never dull, fired by Eco's immense wit and erudition, providing an entertaining read that illuminates the process of negotiation that all translators must make.
Information
Format: Paperback
Pages: 208 pages
Publisher: Orion Publishing Co
Publication Date: 28/09/2004
Category: Translation & interpretation
ISBN: 9780753817988
Free Home Delivery
on all orders
Pick up orders
from local bookshops
Reviews
Showing 1 - 1 of 1 reviews.
Review by JenneB
16/06/2015
This is a subject I just find endlessly fascinating.<br/><br/>Eco's theme in this book is that translation (particularly literary translation) is a "negotiation" between what you might call the 'letter' and the 'spirit' of the original. For example, the book's title refers to Eco's attempt to translate the scene in <i>Hamlet</i> where Hamlet stabs Polonius behind a curtain, saying "How now? A rat? Dead, for a ducat, dead!".<br/><br/>Eco says he translated 'rat' as 'topo', which in Italian actually means mouse, because they don't really have a word that means 'rat' in the same sense. Of course, this misses the wordplay of 'rat' as someone who is a betrayer. <br/><br/>The book is mainly a series of similar examples, many taken from translations of Eco's own works. His writing is especially difficult in this respect, since it is full of allusions, both subtle and obvious, to all kinds of other literature and popular culture.<br/><br/><i>Mouse or Rat</i> doesn't exactly break new ground in this field (Douglas Hofstadter's <i>Le ton Beau de Marot</i> covers similar ideas and also tells an affecting love story at the same time; I recommend it highly), but I could read examples like this pretty much endlessly. <br/><br/>The only problem I had is that you really need a working knowledge of all the languages used to get the full effect, but even my meager knowledge of German/French/Spanish/Italian was enough to get the idea.