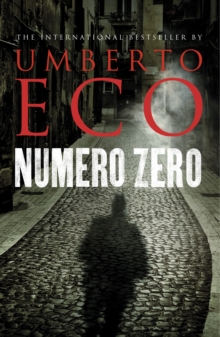 Description
1945, Lake Como. Mussolini and his mistress are captured and shot by local partisans.
The precise circumstances of Il Duce's death remain shrouded in controversy. 1992, Milan. Colonna, a depressed hack writer, is offered a fee he can't refuse to ghost-write a memoir.
His subject: a fledgling newspaper financed by a powerful media magnate.
As Colonna gets to know the team, he learns the paranoid theories of Braggadocio, who is convinced that Mussolini's corpse was a body-double and part of a wider Fascist plot.
It's the scoop he desperately needs. The evidence? He's working on it. Colonna is sceptical. But when a body is found, stabbed to death in a back alley, and the paper is shut down, even he is jolted out of his complacency.
Fuelled by media hoaxes, Mafiosi, love, gossip and murder, Numero Zero reverberates with the clash of forces that have shaped Italy since World War II.
This gripping novel from the author of The Name of the Rose is told with all the power of a master storyteller.
Information
Format: Hardback
Pages: 208 pages
Publisher: Vintage Publishing
Publication Date: 05/11/2015
ISBN: 9781910701089
Other Formats
Paperback from £6.65
EPUB from £3.99
eAudiobook MP3 from £7.20
Free Home Delivery
on all orders
Pick up orders
from local bookshops
Reviews
Showing 1 - 1 of 1 reviews.
Review by Eyejaybee
27/01/2016
I love a good, complex conspiracy theory. I seldom believe them, but I love exploring them and speculating about Machiavellian schemes. So does Umberto Eco. His primary career is as Professor of Semiotics at the University of Bologna, and there is clearly an osmosis between that and his work as a novelist. He has already deconstructed the conspiracy theory with great verve in 'Foucault's Pendulum', a sprawling essay in lateral thinking that both predated and outperformed Dan Brown' 'The Da Vinci Code'. He revisits the genre again, more concisely and prosaically, in his latest novel, 'Numero Zero'. Set in 1992 the book represents the recollections of Colonna, a cynical hack journalist, who is offered a post to help in the preparations of a dummy newspaper for a successful businessman who is considering entering into that field.Colonna, having nothing better on the horizon, recruits a group of colleagues to help prepare their pseudo stories. This gives Eco the opportunity to parody some hardy perennials in the newspaper publishing world. One of the journalists recruited by Colonna, is Braggadocio, an investigative report who is himself a bit of an addict of the conspiracy theory. Having given an impassioned analysis of the proliferation of faux Masonic fraternities operating in Milan over the last century, Braggadocio turns to a more current investigation, and tries to convince Colonna of his potentially explosive theories about the conclusion of the Second World War, and a conspiracy permeating every level of Italian society.More accessible than many of his novels, this is a relatively easy read, and utterly gripping. My knowledge of post-war Italian history is non-existent, but Eco has made me want to look into it in detail, if only to appreciate the twists and turns in this novel even more fully.