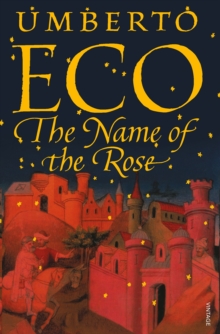 The Name Of The Rose
Paperback
Description
The year is 1327. Franciscans in a wealthy Italian abbey are suspected of heresy, and Brother William of Baskerville arrives to investigate.When his delicate mission is suddenly overshadowed by seven bizarre deaths, Brother William turns detective.
He collects evidence, deciphers secret symbols and coded manuscripts, and digs into the eerie labyrinth of the abbey where extraordinary things are happening under the over of night.
A spectacular popular and critical success, The Name of the Rose is not only a narrative of a murder investigation but an astonishing chronicle of the Middle Ages.
Information
Format: Paperback
Pages: 592 pages
Publisher: Vintage Publishing
Publication Date: 01/11/1992
Category: Crime & mystery
ISBN: 9780749397050
Other Formats
Paperback from £5.99
Hardback from £9.15
EPUB from £4.49
CD-Audio from £39.29
Free Home Delivery
on all orders
Pick up orders
from local bookshops
Reviews
Showing 1 - 5 of 6 reviews.
Previous | Next
Review by Clurb
16/06/2015
Foul-mouthed monks, deep spiritual contemplation, bloody murders, guile, acumen, sex and intrigue. This book had everything.
Review by jontseng
16/06/2015
A powerful evocation of the scholastic milieu.
Review by stillbeing
16/06/2015
I *finally* staggered through this one. An interesting read, but terribly, terribly dense and the monk-speak, although in character, does grate after a while. There was just enough mystery, intruige and wisdom in there to keep me from giving up, but I felt some of the plot devices were too convenient or just unnecessary and the characters diverged into philosophising too often, which broke the flow of action too much. That said, there was some fantastic imagery in there and it prompted me to have a really twisted dream after reading too late into the night, so that was fun.
Review by adpaton
16/06/2015
This is a book I have attempted several times but never completed: I loved the film, and lots of my friends recommended the book. I can't even blame it on the translation: I just couldn't get into it. Definitely one to attempt again though before I die.
Review by ChristaJLS
16/06/2015
Upon arriving at the abbey, Brother William and his apprentice Adso are greeted with a lack of co operation and a number of warnings and mysteries. The first death has happened before they arrived. Brother Adelmo is found at the bottom of the tower, from which he has fallen (or did he jumped? Or was pushed?). In their investigation they find that everyone seems to know something, but no one is willing to talk and they start running out of time as the bodies continue to accumulate and the Inquisitors are on their way.Eco has written a very dark but well designed mystery. Early on into the books I made up my own list of suspects, based on the many clues hinted at throughout the book. Despite my determination to figure out who was the cause of all the murders, the book kept me guessing until the end. As it turns out the culprit wasn't even on my suspect list!You are led through the mystery by Brother Williams young apprentice, Adso. A young novice Adso is both naive and intelligent. He is well versed in matters of theology (as are most characters in this novel- and they love to debate them!) but inexperienced when it comes to life. This makes him very human and relatable and in addition a reliable narrator. You trust what he is telling you and never question whether he is leaving anything out. He is telling you the story exactly as he saw it.Eco is a very descriptive writer and it is easy to lose yourself in the setting of a monastery in1327. Alternatively, however, there is a great deal of time spent on the politics of the time. At this time, when the fear of the Inquisition was felt all over, politics meant theology. Eco writes in detail about some intense theological debates, such as the poverty of Jesus. As a former student of religious studies I could follow some of these debates but even I didn't understand some of the references and arguments some times. These debates should not discourage anyone from reading the book, as it is easy enough to just the jist of them and continue of with the story.Overall an excellent read and a great mystery. Destined to be a classic.