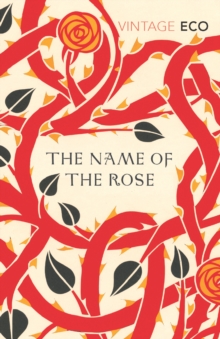 The Name of the Rose
Paperback
Description
The year is 1327. Franciscans in a wealthy Italian abbey are suspected of heresy, and Brother William of Baskerville arrives to investigate.
When his delicate mission is suddenly overshadowed by seven bizarre deaths, Brother William turns detective.
He collects evidence, deciphers secret symbols and coded manuscripts, and digs into the eerie labyrinth of the abbey where extraordinary things are happening under the cover of night.
A spectacular popular and critical success, "The Name of the Rose" is not only a narrative of a murder investigation but an astonishing chronicle of the Middle Ages.
Information
Format: Paperback
Pages: 592 pages
Publisher: Vintage Publishing
Publication Date: 31/01/2004
Category: Crime & mystery
ISBN: 9780099466031
Other Formats
Paperback from £5.99
Hardback from £9.15
EPUB from £4.49
CD-Audio from £39.29
Free Home Delivery
on all orders
Pick up orders
from local bookshops
Reviews
Showing 1 - 5 of 9 reviews.
Previous | Next
Review by mjiko
16/06/2015
Kind of like a mediaeval Sherlock Holmes, Brother William goes about investigating a series of monk murders with an implacable rationality and wit. Fantastic.
Review by bookwitch
16/06/2015
Like a creature from a medieval bestiary, Umberto Eco's great novel is a fabulous monster of a book, conforming to neither the rules of nature nor of contemporary fiction. Summoned by the abbot of an Italian monastery to solve the mysterious death of a young monk, William of Baskerville, together with his assistant Adso, a novice, find themselves caught up in a series of bizarre deaths that seem to centre on the vast labyrinthine library and its precious, secret and avidly-guarded contents. This is a difficult book in places, slow to start and loaded with knowledge and intellect. Fluency in English will give one a sense of the meaning of some of the untranslated Latin that runs throughout the book, but I'd loved to have understood completely. Parts read like lessons in political history, and the intricacies of power struggles between popes and princes, scattered liberally with the names of lesser and more widely known figures, are gone into in some depth. Lists of fantastic creatures, medicinal herbs or the contents of a dream can dominate whole pages. Yet Eco has drawn William and Adso with a delicate and tender brush – each is recognisably human, each is flawed and easy to empathise with. The scene between Adso and the girl is beautifully described, and the writing throughout the 400 plus pages faultless. If at times I found the author's intellect and knowledge daunting, even to the point of feeling unworthy to be reading, there were sections where I simply couldn't put the book down, and I felt on turning the final page that without those passages mentioned above both the novel and its readers would be the poorer.
Review by drivingsideways
16/06/2015
For the initial 200 pages Eco tries deliberately to make you throw the book at the wall, by being dense to the point of annoying. Be patient, and uh..keep a Latin-English translator handy.
Review by roblong
16/06/2015
Further evidence that Catholics (lapsed or otherwise) write the best novels. As well as a compelling mystery this is as fine an evocation of another world (medieval Europe is much further removed from us now than any science-fiction fantasy) as I have ever read. For much of the time the novel feels like the monastery in which it takes place: a supposed oasis of calm and studied learning, infested and eventually overwhelmed by a lunatic and chaotic world of millennial cults, inquisitions and internecine accusations of heresy. When the mystery was resolved I feared the ending might fall flat but not at all, this is fascinating and challenging to the last.
Review by joyfulgirl
16/06/2015
I am not sure what I think or feel about this book. It took me a long time to read, compared with most books. I found it tedious and wordy, but still enjoyable.The fact that there are many phrases in latin, and other european languages, made it difficult to read, due to my monolingualism.I am the sort of person who reads a book for enjoyment, not to pick it to pieces and analyse to find "deeper meanings." Therefore I probably missed most of the semiotics Eco intended.