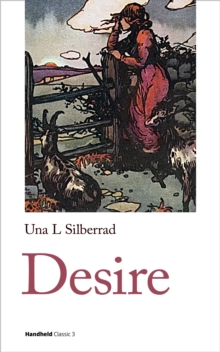 Desire
Paperback / softback
Description
Desire Quebell is the illegitimate daughter and only child of a wealthy financier.
He brings her up in luxury, and she enjoys the pleasures of society, yet she is not a conventional Edwardian daughter.
She rebels intellectually, and chooses not to marry a successful man where there is no love or honour.
She admires the work of provincial novelist Peter Grimstone, and uses him to engineer the break-up of her engagement.
But her father has neglected to make provision for Desire in his will, so when he dies unexpectedly, she has to leave her home without a penny of her own.
She moves to a boarding house and studies secretarial work, intending to find a job before the last of her jewel money runs out.
But her class bars her from employment, and she can't make new friends with being misunderstood.
Just as she faces destitution, Peter tracks her down with the offer of a job: his father has had a stroke, and Peter needs help to run the family pottery business.
Will Desire consider leaving London to be a book-keeper in a small Staffordshire town, away from everyone she has ever known?
But her new life at Grimstone's is not a haven. Peter's father is an angry, bitter man, his mother is nervous and unhappy, and his brother Alexander is an unscrupulous plotter who wants Peter out of the way.
Desire must face sexual aggression as well as social suspicion before she, and Peter, find the way to happiness, in work and life. Cornelia Wachter's critical introduction shows how Silberrad's novel challenged the gender stereotypes of the day, and set out different ideals for masculinity that conflicted with contemporary expectations of how men should behave.
Marriage as an institution is also held up for examination: how should a modern marriage work? And what is wrong with the older model? Desire's reconnection with nature, as she walks the moors and hills, connects to the wider point in the novel that women and men need to reconnect with their `primitive instincts', as a correction to the mechanised urban alienation that Desire has escaped.
Information
Format: Paperback / softback
Publisher: Handheld Press
Publication Date: 05/02/2018
Category: Classic fiction (pre c 1945)
ISBN: 9781999828028
Free Home Delivery
on all orders
Pick up orders
from local bookshops
Also in the Handheld Classics series | View all