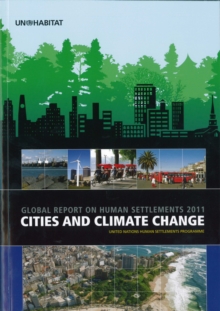 Cities and Climate Change : Global Report on Human Settlements 2011
Paperback / softback
Description
Cities and Climate Change examines the links between urbanization and climate change, the potentially devastating effects of climate change on urban populations and the policy responses and practices that are emerging in urban areas.
Over half of the world's population now live in urban settlements, and the convergence of urbanization and climate change threatens to have an unprecedented impact on economies, quality of life, and social stability.
Alongside these threats, however, is an equally compelling set of opportunities.
The concentration of people, industries and infrastructure, as well as social and cultural activities, acts as a crucible of innovation - developing ways to reduce greenhouse gas emissions, improve coping mechanisms and reduce vulnerability to climate change impacts.
This report from the United Nations Human Settlements Programme (UN-HABITAT), the world's leading authority on urban issues, shows how cities can improve the way they operate in order to respond to climate change and provides practical strategies for strengthening their role as part of the solution.
The Global Report on Human Settlements 2011 is the most authoritative and up-to-date global assessment of human settlements conditions and trends.
Preceding issues of the report have addressed such topics as Cities in a Globalizing World, The Challenge of Slums, Financing Urban Shelter, Enhancing Urban Safety and Security and Planning Sustainable Cities.
Information
Format: Paperback / softback
Pages: 304 pages
Publisher: Taylor & Francis Ltd
Publication Date: 07/03/2011
Category: Urban communities
ISBN: 9781849713719