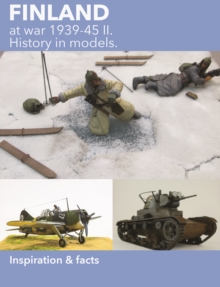 Finland At War 1939-45 Volume 2
Paperback / softback
Description
A second study of 20 scale plastic models built by both semi-professional and amateur modellers, inspired by the three wars that Finland fought between 1939 and 1945, all related to ongoing hostilities between Finland and the expansionist Soviet Union: The Winter War, 1939-1940; The Continuation War, 1941-1944; The Lapland War, 1944-45.
As the Soviet Union changed its allegiance from supporting Nazi Germany to battling the Nazis, this placed the Finns in the unusual situation of being for, then against, then for the overall interests of the Allied powers.
Each model or series of models is covered by a 4- to 8-page section explaining the historical relevance of the subjects and illustrating them in a series of full colour photographs.
Featured models include aircraft, tanks and vehicles and soldiers, all displaying their unique camouflage and markings.
Information
Format: Paperback / softback
Pages: 240 pages, 210 clr photos
Publisher: Leandoer & Co Forlag
Publication Date: 14/01/2019
Category: Second World War
ISBN: 9789185657629