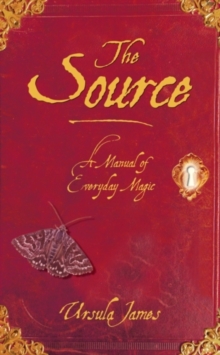 The Source : A Manual of Everyday Magic
Hardback
Description
"The Source" threads together two stories. The first that of Ursula Sontheil, sometimes known as Mother Shipton, the 16th-century Yorkshire prophetess and healer who was burnt at the stake but whose spirit survived captive in a cave in North Yorkshire.
She would have been trapped for ever but for the cave's extraordinary power: objects left in the cave are turned to stone by the action of the lime suffused waters from a nearby well.
Mother Shipton used the powers of the waters to live again through the needs of those who came to the cave and called on her for healing.
Each gift turned to stone by the waters lit another spark of life within her.
Through the centuries many came for her help, enough for their needs to free her spirit to leave the cave and live again.
The second story is that of another Ursula, Ursula James, a modern day healer of minds.
Mother Shipton shaped her childhood and, when she was ready to listen, came to her again when she was an adult and gave her the means to make magic happen. Through Mother Shipton's prophecies and spells, Ursula James transformed her own life and taught her that magic must be shared or it is diminished, so she passes this knowledge on to others.
As the magic began to grow it took on a life of its own and spread around the world. "The Source" is a book that comes out of time and is of this time.
It is only now, after the world of commerce has been in freefall, that we are ready to listen and respond to Sister Moon and to heal Mother Earth.
Each chapter has a ritual, rite or journey, to guide the reader on their path to the source of their own power.
Part fable, part spell-book, "The Source" has true magic woven through it for those who read it well.
Information
Format: Hardback
Pages: 224 pages, Illustrations
Publisher: Cornerstone
Publication Date: 03/03/2011
Category: Mysticism, magic & ritual
ISBN: 9781848092969
Other Formats
Paperback from £6.65
EPUB from £3.99
Free Home Delivery
on all orders
Pick up orders
from local bookshops
Reviews
Showing 1 - 1 of 1 reviews.
Review by wrighton-time
16/06/2015
Article first published as Book Review: The Source by Ursula James on Blogcritics.If told magic were real …would you believe it? If given the opportunity to learn magic from a book … would you take the chance? In The Source by Ursula James, you are given just such an opportunity. A work springing for her own inner search and discovery, part of that step to the source requires passing on the magic, and Ursula James has put together a 'Source Book' of learning for the uninitiated, and those wanting to find that bit of magic inherent in themselves. This book is for those believers wanting to live a life of their own, fulfilling their own dreams.The Source is also the story of Mother Shipton, and her life and death as well as her part in the power of magic. Known as a Prophetess, healer and seer, she is a wellspring of knowledge of the secrets of magic. It is a book of journeys and passage, a road to your own power.The book is a story and yet written in textbook style with lessons and guidance to help the user in their path. It is full of information on the phases of the moon, an integral part of the process, and set and styled with ritual, again one of the prerequisites to attaining and pursuing that dream of life.James shares her own story as she weaves the instruction, a story of excess and heartache, a life on the verge and how she also was able to learn, to open her vision and imagination to what is available to anyone who is looking for it.The book is set with the ritual and guidance necessary to walk this path, listing the seven trances to attain that passage. Seven is a magical number, rife with meaning and James walks you through the process and just sets the stage, allowing the reader to move at their own pace should they choose this path.This book is both interesting and intriguing, who hasn't wanted to have a little magic at some time in their life, Bewitched (TV Show) made it fascinating and took away some of the stigma.I believe this would be a great book for a reading group,creating an interesting and likely heated discussion of the merits of magic. It is well written and easy to follow.If you are even a bit interested in this subject it is thoughtful and insightful, and a different and unique vehicle to help you achieve a more meaningful life. It is a book about values and becoming a better person, an alternative to the self-help books abundantly available.This book was received free from the author through their publicist. All opinions are my own based off my reading and understanding of the material.