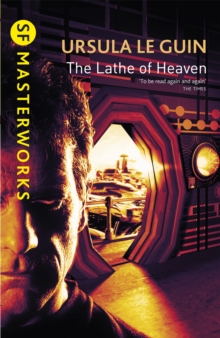 The Lathe Of Heaven
Paperback
Description
George Orr is a mild and unremarkable man who finds the world a less than pleasant place to live: seven billion people jostle for living space and food.
But George dreams dreams which do in fact change reality - and he has no means of controlling this extraordinary power.Psychiatrist Dr William Haber offers to help.
At first sceptical of George's powers, he comes to astonished belief.
When he allows ambition to get the better of ethics, George finds himself caught up in a situation of alarming peril.
Information
Format: Paperback
Pages: 192 pages
Publisher: Orion Publishing Co
Publication Date: 09/08/2001
Category: Science fiction
ISBN: 9781857989519
Free Home Delivery
on all orders
Pick up orders
from local bookshops
Reviews
Showing 1 - 5 of 5 reviews.
Review by SystemicPlural
16/06/2015
A captivating read. A dream psychologist is tempted by the power of having a subject whose dreams become reality. Explores the impossible nature of a perfect utopia and how life is a balance rather than an ideal. Taoist quotes that start chapters are very fitting for the books subject matter. The technology, psychology and sociology are somewhat out of date but the concept is timeless.This particular quote stood out to me. It's not relevant to the main subject matter of the book, but it captures so well for me that moment of meeting someone you are deeply attracted to;"An irrelevant and poignant sensation of pleasure rose in him, like a tree that grew up and flowered all in one moment with its roots in his loins and its flowers in his mind. 'Hello,' he said again."
Review by theboylatham
16/06/2015
Seven out of ten.
One man dreams - except everything he dreams seems to come true. This gives him the power to change the world if the dreams can be controlled but for each problem he tries to solve by his dreams there are unaccounted for side-effects. The idea is excellent and sums up a lot of the things people do which has unforeseen consequences - do the ends justify the means?
Review by eleanor_eader
16/06/2015
Thought-provoking sci-fi, written with a clever turn of phrase and use of imagery… the diffident protagonist, George Orr, is having dreams that shape reality, an anomaly nicely at odds with his personality, since he is so passive that his waking life has little impact on anybody. Dr Huber (whose name is impishly close to hubris) has his own agenda for Orr's dreams, directing and shaping the world through use of his specially developed device, the 'Augmenter'. I was particularly impressed by the changing realities, especially the last one, and delighted with the aliens that Orr brings into being; and with the uncertainty of whether or not the aliens - indeed, any of the events surrounding Orr – ever existed before he 'dreamed' them up.I found the exposition slightly overwritten in this short novel, which otherwise had some fantastic dreamy prose, but the story within is fascinating, as is the relationship and differences between Huber and Orr.
Review by comixminx
16/06/2015
Great, absorbing book with a central hook concept that I liked a lot. Very odd though how it really reminded me of Philip K Dick, which is not something I would ever have expected UKlG to do: uncertain world, ever changing due to a mental ability? check. drugs? check. manipulation by hearty person who is sure of themselves? yup. Hmm, odd.
Review by lilywren
16/06/2015
The Lathe of Heaven tells the story of a mild mannered chap, George Orr, who possesses the 'gift' of being able to change reality through his dreams. He calls these 'effective dreams'. He can go to bed one night and wake up in the morning only to find his job has changed, the landscape has altered, politics across the world and even the appearance of people. However, people around him do not notice anything different. To them things are as they have always been. Only George is aware of the impact that his dreams have on reality.The book sounded just up my street. I love dream analysis, altered reality systems and dystopic tales and so a book which incorporates all these sounded perfect. In addition to this, there have been a number of times where I have wished that I could wake up and be instantly transformed into some 8.5 stone fitness guru with a body to rival any athlete (preferably that of a female tennis player). I would also have an abundance of wealth and happiness, popularity unbounded and there would be world peace…Ah, if only it was so easy!As is the case with characters who have such amazing 'gifts' in any book or film, we find out that such abilities can often become a curse. We meet George at a time in his life where his ability to dream 'effectively' has become too much to bear. George needs drugs to manage his sleep and dreams. He tries to stay awake. It's not like he can just go to sleep and have a dream that he is wealthy and popular and wake up the next day and, hey presto, there it is. As is often the case with dreams, George doesn't have such conscious control and, as we know, dreams can become nightmares. How often have you gone to bed and wanted to dream about a particular thing but found that something else had happened? Can you imagine waking each day/week into a dramatically changed social, political and/or environmental landscape? One that came straight from your subconscious? What if you had a nightmare which became your reality? It would certainly put that dream where I gave birth to a chicken into perspective….Right from the start of the book we become only too aware of his problem as he is found in a collapsed state outside his apartment. He explains to the elevator guard who found him that:"Couldn't find the fit" he said, meaning that he had been trying to lock the door through which the dreams came, but none of the keys fit the lock" (p.2).The 'fit' for George has meant taking copious amounts of prescribed drugs for which he has to use 'Pharm Cards' from other people. This is a crime for which George has to attend the 'Voluntary Therapeutic Treatment' programme which will seek to help him with his perceived substance abuse. During this programme George is introduced to his psychotherapist, Dr Haber, who seeks to help him overcome his 'fear' of sleeping and dreaming. However, Haber becomes aware of George's ability and finds ways in which to use this for his own ends. Haber starts to plant suggestions into George's mind during his dream stage of sleep which leads to the development of interesting 'realities'.I enjoyed reading The Lathe of Heaven and Le Guin's writing flows beautifully off the page. I got through the book quicker than I have got through any book in a long time. I started reading the book before 2014 thinking by the time 2014 arrived and the challenge had begun I would be just about finishing it. I underestimated myself and the book.The story raises issues around power, powerlessness, control and fear. There is an overwhelming sense of loss which runs throughout. Le Guin portrays the changes George has to go through as a consequences of his 'effective' dreams in a rather poetic way. All facets of life are transient, forever moving on and changing at an incredible pace. This can only lead to a sense of loss for love and life as it is, was or may never be. Le Guin manages to capture this perfectly as she portrays the grief George feels as his dreams continue to alter his reality and that of the world. Be careful what you dream….. they may come true.
Also in the S.F. Masterworks series | View all