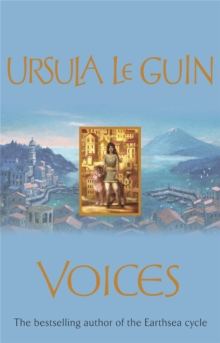 Description
Memer is a child of rape; when the Alds took the beautiful city of Ansul, they descecrated or destroyed everything of beauty.
The Waylord they imprisoned and tortured for years until finally he is freed to return to his home.
Though crippled, he is not destroyed. His life still has purpose. Memer is the daughter of his House, the daughter of his heart.The Alds, a people who love war, cannot and will not read: they believe that in words lie demons that will destroy the world.
All the city's libraries, the great treasure trove of knowledge of ages past, are burned, except for those few volumes secreted inthe Waylord's hidden room.But times are changing.
Gry Barre of Roddmant and Orrec Caspro of Caspromant have arrived in the city. Orrec is a story-teller, the most famous of all: he has the gift of making.
His wife Gry's gift is that of calling; she walks with a halflion who both frightens and fascinates the Alds.This is Memer's story, and Gry's and Orrec's, and it is the story of a conquered people craving freedom.
Information
Format: Paperback
Pages: 384 pages
Publisher: Hachette Children's Group
Publication Date: 03/05/2007
Category: Fantasy
ISBN: 9781842555613
Free Home Delivery
on all orders
Pick up orders
from local bookshops
Reviews
Showing 1 - 1 of 1 reviews.
Review by shanaqui
16/06/2015
A lot more seems to happen in Voices than in the first book of the trilogy, Gifts. It has more tension, more drive, and it feels more full. Ursula Le Guin has a habit of writing very beautiful books that aren't very immediate or exciting because they have very little by way of plot. I still like them, but plenty of people won't stop to read them. Voices isn't like that -- there's a plot, as well as compelling characters, beautiful writing and careful worldbuilding. Nothing slips, here.<br/><br/>Gry and Orrec, from the first book, are important in this book, too. Orrec, particularly, in terms of the plot, but in terms of the emotional part of the book, Gry is very important to the narrator, Memer. It's good to see these characters, good to see how they've grown. But then again, if you haven't read Gifts, it's actually okay, I think, just to read Voices. You're missing out, I think, but you could read Voices on its own.<br/><br/>Le Guin's "agenda" is more obvious in this book. Parts of it -- the idea of the people of Ansul being peaceful people, and "set free to be free" -- remind me of The Eye of The Heron. For most of the book, there's a powerful, oppressive, occupying force, which has to be overturned. I really like that the people of Ansul remain relatively peaceful -- not unnaturally so, stretching belief only a little, but still, peaceful. There's food for thought about the nature of liberty, religious/cultural conflict, politics...<br/><br/>Funny that I have rather less to say about this book, in which rather more happens than in Gifts. Perhaps that's because it's easier to let it speak for itself.