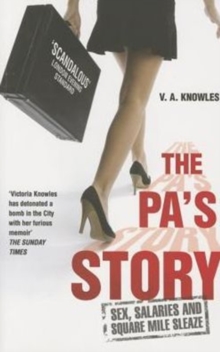 The PA's Story : She Kept Their Diaries. She Kept Their Secrets. She Kept Quiet... Until Now.
Paperback / softback
Description
The PA's Story is the book which has taken the Square Mile by storm.
Life as the personal assistant to some of the wealthiest and most powerful men in the country is a poisoned chalice.
As the first line of communication between the big boss and the outside world, a PA also becomes the last frontier of secrecy, confidentiality and trust.
Given the right boss, an exhilarating working life can blossom.
With the wrong boss, it can become a living hell. Victoria Knowles's unique inside perspective as a woman fighting to thrive in a vice-filled world dominated by men is at once moving, revealing and scandalous.
The high-flying city boss lifestyle has been scrutinised ever more in the press for all the wrong reasons of late, and with revelations of sexist bullying, illicit affairs and pornography in the office, this is a shocking expose about the men who have everything and still want more.
The PA is an explosive, furious memoir about working in the City of London spanning over a decade.
Information
Format: Paperback / softback
Pages: 288 pages
Publisher: John Blake Publishing Ltd
Publication Date: 04/06/2015
Category: Memoirs
ISBN: 9781784183837