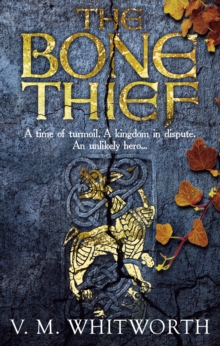 The Bone Thief : (Wulfgar 1)
Paperback
Part of the Wulfgar series
Description
Alfred the Great has been dead for a decade. His legacy: an uneasy alliance between the neighbouring kingdoms of Wessex and Mercia.
Wulfgar, a young priest in training, more at home with his books than with a sword, has been tasked with an impossible mission.
He must travel secretly to the badlands of the North and find the bones of a long lost saint. But the Northern territories are under the rule of Viking invaders. And if Wulfgar is discovered, they will have his head...
Information
Format: Paperback
Pages: 464 pages
Publisher: Ebury Publishing
Publication Date: 16/08/2012
Category: Historical fiction
ISBN: 9780091947231
Free Home Delivery
on all orders
Pick up orders
from local bookshops
Reviews
Showing 1 - 1 of 1 reviews.
Review by drmaf
16/06/2015
Life is full of peculiar coincidences. Having no sooner finished the life story of Oswald Iding, King of Northumbria, than I come across this entertaining novel in which Oswald, now dead some 300 years, features prominently as St Oswald, one of the most revered martyrs in Anglo-Saxon England and whose relics are in high demand. The book is based on a brief, cryptic reference in the Anglo-Saxon Chronicle, which notes that in around 900 AD, Aethelfleda, Queen of Mercia, obtains the bones of St Oswald from where they have been hidden since the destruction of their shrine by the Vikings and has them translated to the Cathedral in Gloucester. From this fragment, Whitworth has constructed a detailed and enthralling story centred around the fictional character Wulfgar, a young priest, who is tasked with retrieving Oswald's bones from their hiding place. With the help of a variety of companions, Wulfgar braves the dangerous journey to snatch the bones from their resting place in Bardney, despite the best efforts of Aethelfleda's rivals, Viking warlords and a particularly evil slave-trader and returns them to Gloucester. The novel is interesting not only for its deftly-handled plotting, well-developed characters and excellent moments of action, but in the way it handles the background of disordered and chaotic 10th century England, still divided into quarrelsome kingdoms and facing the continuing threat of the Danes, who have conquered large portions of eastern England and show every desire to add more territory to their domains. The tensions between English and Dane, Christian and pagan, warriors and church are always evident and inform so much of the story, and Whitworth has done a masterful job of creating the tense, uncertain atmosphere of the time, when England's future was in a state of flux and rapid change in the circumstances of everybody was possible. The book is somewhat slow in the first half and the proliferation of characters and their motivations can get confusing, but the second half is quick and sure, with events moving smoothly but rapidly to a conclusion. It seems this book is the first in a planned series, in which case I will be waiting with anticipation for the next instalment. An excellent read, not great literature by any means, but entertaining and informative. Thoroughly enjoyable.
Also in the Wulfgar series