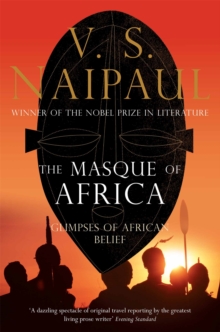 The Masque of Africa : Glimpses of African Belief
Paperback
Description
'Compelling, insightful, often sombrely beautiful' Sunday Telegraph Moving beyond travelogue, The Masque of Africa considers the effects of belief (in indigenous animisms, the foreign religions of Christianity and Islam, the cults of leaders and mythical history) upon the progress of African civilization.
Beginning in Uganda, at the centre of the continent, Naipaul's journey takes in Ghana and Nigeria, the Ivory Coast and Gabon, and ends, as the country does, in South Africa.
Focusing upon the theme of belief -- though sometimes the political or economical realities are so overwhelming that they have to be taken into account -- Naipaul examines the fragile but enduring quality of the old world of magic.
To witness the ubiquity of such ancient ritual, to be given some idea of its power, was to be taken far back to the beginning of things.
To reach that beginning was the purpose of this book. 'Naipaul travels, he asks, he listens attentively and, above all else, he notices, often seeing what others do not or cannot.
That acute gift has never left him ...he is sustained by the old ideal of unadorned truth-telling' New Statesman 'The quality of Naipaul's writing -- simple, concise, engaging -- rarely varies . ..Above all, Naipaul's latest African journey is eyewitness reporting at its best' Time
Information
Format: Paperback
Pages: 336 pages
Publisher: Pan Macmillan
Publication Date: 01/06/2011
Category: Travel writing
ISBN: 9780330472043
Free Home Delivery
on all orders
Pick up orders
from local bookshops
Reviews
Showing 1 - 1 of 1 reviews.
Review by edwinbcn
16/06/2015
With regard to non-fictional writing about religion, V. S. Naipaul is mostly known for his two travelogues exploring an mapping the practice of Islam in two books, viz. Among the Believers: An Islamic Journey, published in 1981, followed by Beyond Belief: Islamic Excursions among the Converted Peoples, which appeared in 1994. In both books Naipaul describes Arab countries and other asian countries where Islam was an adopted religion, following conversion, which are the main focus of Naipaul's interest. Both books have been criticised for being superficial and erronous.In 2010, V. S. Naipaul published The masque of Africa. Glimpses of African belief. The book consists of six extended pieces of writing about his experience in different African countries. Whereas the two books about Islam were focused on converted people who professed to the religion of the Islam, and those books were the result of respectively five and six months of travel, The masque of Africa. Glimpses of African belief is a much more eclectic book, consisting of travels undertaken at various, unrelated moments in time, and with a quite different unrelated purpose. It is therefore surprising that the first and longest piece takes the reader back to 1966 when Naipaul when Naipaul spent "eight to nine months" in East Africa, of which six weeks were spent in Kenya, a month in Tanzania, and the remaining half year in Uganda. "Forty-two years after that first visit I went back to Uganda (...) hoping to get started there on this book about the nature of African belief, and I thought it would be better to ease myself into my subject in a country I knew or half knew. But I found the place eluding me." (p. 1)V. S. Naipaul does not make clear which place eluded him, Uganda he half knew, or the African continent as a whole. The introductory passage also shows the author's half-hearted interest in his subject, or possibly no interest in it at all. Perhaps The masque of Africa. Glimpses of African belief is just a suggestion of the publisher, an attempt to cash in on Naipaul's fame as a Nobel Prize winning author with a reputation for writing non-fictional travelogue about religion.The first, long essay (80 pages) informs the reader much about Naipaul's stay in Uganda in 1966, but provides only the merest suggestion of religious practice.Nations on the African continent, whether their current boundaries are temporary or permanent, have existed for hundreds of years, and some countries have an abundantly rich cultural variety, for which Naipaul does not seem prepared. Thus, his journey takes him through Ghana and Nigeria, the Ivory Coast and Gabon, and South Africa, making some general observations about religion, besides many touristic travellers' views.The second essay is called Sacred places. After an introduction to the history of Nigeria, Naipaul is introduced to his guide who supposedly knows about Yoruba culture, and leads Naipaul to meet an Oba in the Yoruba homeland. However, Naipaul's subsequent description about Mumbo Jumbo is more likely taken from the author's reading of Mungo Park's travel journals Travels in the Interior of Africa (1795), to which he already made reference in the introductory section of the essay (but does not refer to here). Naipaul does not learn anything knew about Yoruba religion from his informers. The next section of "Sacred places" deals with a ling biographical descriptions of another informer, who takes Naipaul to see a soothsayer. Further sections return to Yoruba religion and Islam in Nigeria. Only a few fleeting remarks are made about the "orthodox Christian Cherubim and Seraphim Church Movement," but Naipaul does not write anything about Christianity in Nigeria."Men Possessed" described the Ashanti religion of Ghana, with a visit to another soothsayer. Naipaul tells us that both the soothsayer of the Yoruba religion in Nigeria and the one here in Ghana required a bottle of liquor as a tribute, before their session. In between some references to Moslem and Christian religions, which Naipaul does not pursue, he is taken to see the high priest of the Gaa cult in Ghana. The following description is a mockery of Naipaul's professed cultural sensitivity. The high priest is not there but sends them a message on his mobile phone. They are received by a dignified old chief, dressed in a purple silk gown, wearing silver bangles and golden earrings, and tattoos or markings on his skin. "He could certainly have been expecting some schnapps, and perhaps a gift of money." Everyone ends up being irritated: Naipaul because "in my dealings with magicians, I had understood that beyond a certain stage there was no place for simple inquirers", and the old chief "who might have been misled about the visitor, (...) involved him in this waste of time, without even the likelihood of a bottle of schnapps at the end. (p. 185). The repeated references to bottles of liquor rather jeopardize Naipaul's sincerity in these transactions.References on page 185, suggest that Naipaul's visit to Ivory Coast in the following chapter, "The Forest King" were actually made twenty years earlier, or, as with the visit to Uganda, a visit long ago, followed by a renewed visit for the purpose of writing this book. With just 18 pages, this essay is oddly short."The Children of the Old Forest" describes the religion of the pygmies (consistently misspelled "pigmies" by Naipaul) in Gabon. Here, Naipaul has several informers and guides who lead him to meet the rather primitive tribes in the forests. The last essay, "Private Monuments, Private Wastelands" presents a very general introduction to South Africa, including a description of the religious beliefs of a Zulu traditionalist.The masque of Africa. Glimpses of African belief is presented as a travelogue focusing on religious belief in Africa. While the book does introduce some aspects of religion, choice and focus are superficial, and of no particular interest but to the most general reader. A topic which should be introduced by an experienced anthropologist, is trampled by a rather vulgar tourist, whose memories of 20 - 40+ years past, travels and observations made with a completely different interest, now inform a very superficial travelogue through Africa.In most cases in is quite easy to evaluate a book with a number of stars, and in some cases it is more complicated. My expectations about the book were not met, but in spite of that, [The masque of Africa. Glimpses of African belief] is still a very readable book.[The masque of Africa. Glimpses of African belief] is published without an introduction, so [[Naipaul]]'s intentions with the book are not made explicit. The author is not an anthropologist, and therefore, the book should perhaps simply be appreciated for what it offers: <I>Glimpses of African belief</i>. Lacking an introduction, the reader should perhaps be guided by the blurb text which introduces the intention as follows: "<I>Focusing upon the theme of belief - though sometimes the political or economical realities are so overwhelming that they have to be taken into account - Naipaul examines the fragile but enduring quality of the old world of magic.</i>" That is more or less exactly what the book does. The title itself: "<I>The masque of Africa.</i>" shows that much remains hidden.Averaging 70 pages, the five long plus one short essays are all very well-written. While the descriptions of each religion is but scanty, the total picture of each African country is fairly comprehensive. This is a major plus point, since generally, so little is written and known about African countries in the first place.There is section for acknowledgements, and on the last page is written: <I>March 2008 - September 2009</i>, which means the essays were especially written for the publication of this book. While some older memories may have gone into the book, the essays were written for this occasion, and not scrambled, as so often happens in other publications, where old essays are brought together to describe a new story.Therefore, I would still recommend [The masque of Africa. Glimpses of African belief] as an introduction to these African countries and some of the traditional beliefs held by their people, awarding the book four stars.