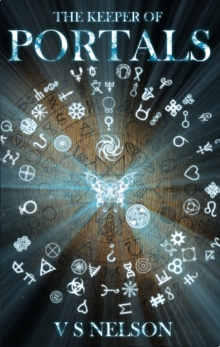 The Keeper of Portals
Paperback / softback
Description
An epic time-slip fantasy novel for young adults that leads to a dramatic turn of events when the modern day begins to seep into the 17th century.
After the death of his dad, Martin and his mum move into an enormous stately home where they encounter a mysterious being called the Keeper of Portals, who claims to control every portal on the planet, except for the door at the end of Martin's bedroom, which has been sealed for 400 years.
One morning, Martin wakes to discover the Keeper of Portals is missing and the door at the end of his bedroom has been opened.
Martin steps through the door to find himself in the 17th century where he meets Isabel, the house's maid.
Martin and Isabel quickly learn that everything on earth, from time and causality, to pleasantries and buttons, is controlled by its own keeper.
After discovering two imprisoned keepers, Martin and Isabel receive the ability to jump between doorways and change their time, but they soon become entangled in a battle against the master of the house, the Keeper of Questions.
The Keeper of Portals follows Martin and Isabel as they alternate between the present day and the 17th century, often returning to a time they have already been to and nearly running into past versions of themselves.
They fight hordes of murderous villagers, escape from the Keeper of Questions by hiding in a sea cave for 400 years and confront the powerful Keeper of Causality.
But there is something wrong with time itself as items from the present day begin to bleed into Isabel's time.
After driving an off-road 4x4 through the peaceful countryside of the 17th century, Martin and Isabel confront the Keeper of Questions in the city of London.
But when they arrive they find it deserted - the Keeper of Questions has control of everyone in London and it won't be long until Martin and Isabel are next.
The Keeper of Portals is a adventure story that explores the supernatural and is an ideal read for young adults.
Inspired by authors such as Philip Pullman and Neil Gaiman, this book will be enjoyed by fans of time-slip fantasies, both children and adults alike.
Information
Format: Paperback / softback
Pages: 320 pages
Publisher: Troubador Publishing
Publication Date: 16/02/2017
Category: Fantasy
ISBN: 9781785898327
Free Home Delivery
on all orders
Pick up orders
from local bookshops