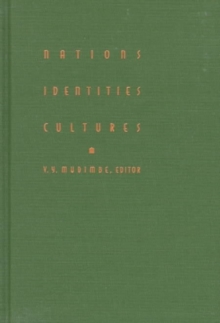 Nations, Identities, Cultures
Hardback
Description
This volume investigates the concepts of nation, identity, and culture as they have evolved within the contexts of exile and as a result of the consolidation of the ethnic and the political.
The contributors explore various theoretical issues involved in reconfiguring these concepts since the nineteenth century, as well as the manifestations of these issues in specific regions of the world. Examining the degree to which twentieth-century representations of colonization, revolution, and modernity are nineteenth-century constructs, Nations, Identities, Cultures locates contemporary political thought in an ethos of exile, nostalgic for bygone places and cultures of the nineteenth century.
The contributors interrogate the significance of changes in the way the political is conceptualized and the impact of shifting representations of political society on our understanding of nation, identity, and culture.
Approaches to these issues range from broad perspectives on global culture, civil society, liberalism, and dialectical identity to specific case studies on the politics of Quebec, the Russian muzhik, Israel's borders, the ancient Greek origins of European culture, Kongo nationalism, the women of Lebanon, and the Danish/Swedish border. Contributors. Martin Bernal, Dominique Colas, Miriam Cooke, Daphna Golan, Thomas Lahusen, Jocelyn Letourneau, Anders Linde-Laursen, Wyatt MacGaffey, John McCumber, V.
Y. Mudimbe, Kenneth Surin, Immanuel Wallerstein
Information
Format: Hardback
Pages: 240 pages
Publisher: Duke University Press
Publication Date: 13/11/1997
Category: Cultural studies
ISBN: 9780822320524
Free Home Delivery
on all orders
Pick up orders
from local bookshops