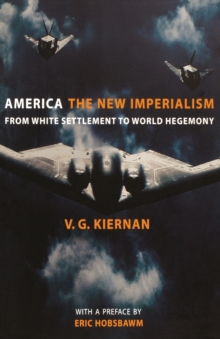 America-The New Imperialism : The New Imperialism - From White Settlement to World Hegemony
Paperback
Description
In contrast to the many analyses of American imperialism, which have focused on current events, this work adopts a classical historical approach.
In it, Victor Kiernan, one of the world's most respected historians, uses his nuanced knowledge of history, literature and politics to trace the evolution of the American empire.
Accounts of relations between Indians and white settlers, readings of the work of Melville and Whitman, analysis of the way money and politics became intertwined, among much else, inform his convincing and compelling account of how America came to be the global hegemon it is today. "[America] could not take itself for granted, but had need of ideas, convictions, speculations, to grow up round; also of a guiding power to put its trust in, a pillar of cloud or a pillar of fire.
Its aspirations were never confined within its own elastic frontiers, but embraced all human destinies ...the rest of humanity was only passive raw material, clay to be moulded by the potter's hand." - From the Foreword.
Eric Hobsbawm's preface provides both an insight into his own current thoughts on American imperialism and a valuable introduction to Victor Kiernan's work. Together, they shed useful light on today's urgent debates about such issues as the uses and misuses of seemingly unlimited military power, a lack of respect for international agreements, and the right to pre-emptive defense.
Information
Format: Paperback
Pages: 460 pages, black & white illustrations
Publisher: Verso Books
Publication Date: 01/03/2005
Category: History of the Americas
ISBN: 9781844675227
Free Home Delivery
on all orders
Pick up orders
from local bookshops