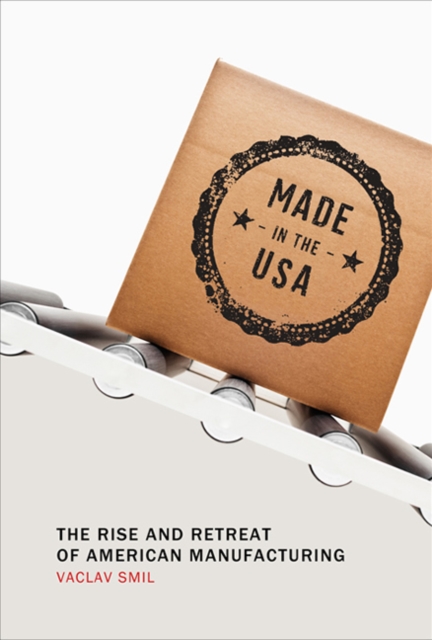 Made in the USA : The Rise and Retreat of American Manufacturing
Paperback / softback
Description
An argument that America's economy needs a strong and innovative manufacturing sector and the jobs it creates. "There's no author whose books I look forward to more than Vaclav Smil."-Bill GatesIn Made in the USA, Vaclav Smil powerfully rebuts the notion that manufacturing is a relic of predigital history and that the loss of American manufacturing is a desirable evolutionary step toward a pure service economy.
Smil argues that no advanced economy can prosper without a strong, innovative manufacturing sector and the jobs it creates.
Smil explains how manufacturing became a fundamental force behind America's economic, strategic, and social dominance.
He describes American manufacturing's rapid rise at the end of the nineteenth century, its consolidation and modernization between the two world wars, its role as an enabler of mass consumption after 1945, and its recent decline.
Some economists argue that shipping low-value jobs overseas matters little because the high-value work remains in the United States.
But, asks Smil, do we want a society that consists of a small population of workers doing high-value-added work and masses of unemployed?
Smil assesses various suggestions for solving America's manufacturing crisis, including lowering corporate tax rates, promoting research and development, and improving public education.
Will America act to preserve and reinvigorate its manufacturing?
It is crucial to our social and economic well-being; but, Smil warns, the odds are no better than even.
Information
Format:Paperback / softback
Pages:280 pages, 10 b&w photos, 3 b&w illus., 1 figure; 11 Illustrations, unspecified
Publisher:MIT Press Ltd
Publication Date:21/08/2015
Category:
ISBN:9780262528351
Information
Format:Paperback / softback
Pages:280 pages, 10 b&w photos, 3 b&w illus., 1 figure; 11 Illustrations, unspecified
Publisher:MIT Press Ltd
Publication Date:21/08/2015
Category:
ISBN:9780262528351
Also in the The MIT Press series | View all