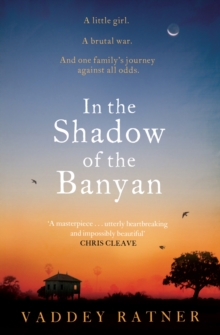 In The Shadow Of The Banyan
Paperback
Description
For seven-year-old Raami, the shattering end of childhood begins with the footsteps of her father returning home in the early dawn hours bringing details of the civil war that has overwhelmed the streets of Phnom Penh, Cambodia's capital.
Soon the family's world of carefully guarded royal privilege is swept up in the chaos of revolution and forced exodus.
Over the next four years, as she endures the deaths of family members, starvation, and brutal forced labour, Raami clings to the only remaining vestige of childhood - the mythical legends and poems told to her by her father.
In a climate of systematic violence where memory is sickness and justification for execution, Raami fights for her improbable survival.
Displaying the author's extraordinary gift for language, In the Shadow of the Banyanis testament to the transcendent power of narrative and a brilliantly wrought tale of human resilience.
Information
Format: Paperback
Pages: 352 pages
Publisher: Simon & Schuster Ltd
Publication Date: 06/06/2013
ISBN: 9781849837606
Free Home Delivery
on all orders
Pick up orders
from local bookshops
Reviews
Showing 1 - 1 of 1 reviews.
Review by clfisha
16/06/2015
[In The Shadow of The Banyan Tree] by Vaddey Ratner Fictionalised account of Ratner's experience as a young girl torn from her privledged life into the killing fields of the Khmer Rouge. One of forced labour, starvation, suicide and murder. It is a striking and important tale of a much ignored period of extraordinary atrocity. It is a story thats pays tribute to those who didn't make it and to thank those that did. It feels churlish to criticise a survivors tale but the childhood view does make it unbalanced. It's noticeably jarring that there is no comment of the extraordinarily privileged position of a family sheltered from the starving and corrupt city under siege but perhaps the story would fail dismally if this were done. Instead a desire to show happiness before the fall, a need to tell a destroyed culture's stories and myths that overwhelm the early part but enhance so much during the latter half. The charactisation is so good I felt a frustrating need to understand the tale from other view points, particularly her mother whose stunning resilence made me want her commentary to round the tale. In fact it compliments [The Killing Fields] (reviewed above). a different view, personalised and emotional grounds facts to widen your understanding. Recommended. A piece of history worth your time and and story well told.