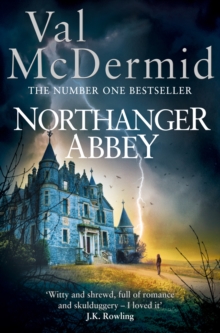 Northanger Abbey
Paperback
Description
Jane Austen in the hands of queen of crime, Val McDermid.
Get ready for a very different Northanger Abbey.For Cat Morland life being home-schooled in Dorset is unendurably ordinary.
To cope, she devours as many novels as possible, especially anything supernatural.
But if Cat can tear her eyes away from the page, she's in for a shock: the very stuff of her dreams is about to come true.An invite to the Edinburgh Festival from some wealthy neighbours throws her in the way of a mysterious young man, Henry Tilney; a like-minded friend, Isabella Thorpe; and her odious brother, who threatens to ruin Cat's chances of adventure.
But this heroine is not so easily deterred, especially when she's singled out by the Tilney family to stay with them at their imposing gothic castle, Northanger Abbey.Turrets and creaking doors there may be, but in the depths of the Scottish Borders Cat is isolated from the outside world, with no phone signal and no internet.
She's all alone in an ancient abbey alive with old secrets and a family who are not quite as they seem.
Is real life about to become more terrifying than the world of her imagination?
Information
Format: Paperback
Pages: 368 pages
Publisher: HarperCollins Publishers
Publication Date: 25/09/2014
ISBN: 9780007504299
Other Formats
EPUB from £5.49
eAudiobook MP3 from £10.39
Free Home Delivery
on all orders
Pick up orders
from local bookshops
Reviews
Showing 1 - 3 of 3 reviews.
Review by AdonisGuilfoyle
16/06/2015
Not the best book to finish the year on, but an interesting experiment. The Austen Project compels and repulses me in equal measure, but I only gave in after finding Val McDermid's contribution in a charity shop. The thing is, Austen is both timeless and of her time; her novels are now popular classics, but do they need 'reinventing' for a modern generation? I've read loads of <i>Emma</i> sequels - although not Alexander McCall Smith's, unless I can get a copy for free - and some work better than others, but all compare unfavourably with the original. McDermid's take on <i>Northanger Abbey</i> suffers from the same handicap - a clever translation, but one labouring under the constraints of the original.Also, 'senior' writers should never, ever try to ape the language and mannerisms of today's 'yoof'. I think Val read an article in the <i>Daily Mail</i>, circa 2010, about kids using Facebook and Twitter and took her portrayal of 'Cat' Morland and Bella Thorpe from there. Bella is like a Sloane ranger trying to impersonate Cher from <i>Clueless</i>, while the seventeen year old heroine of the tale veers between abbreviated text speak and lecturing people on the evils of alcohol ('Obeying the law isn't a favour - I'm still only seventeen so I can't drink legally in a pub anyway'). Character appropriate for a home-educated vicar's daughter, perhaps, but very strange to read. Generation gap aside, this modern treatment of Austen's gothic satire almost works - apart from Cat's vivid imagination concerning the Tilneys (sheltered does not mean stupid) and the General's reason for kicking Cat out of the Abbey in the middle of the night (when he's spent most of the time dropping clanking great hints about the Allens' wealth, as in the original text). Edinburgh makes a great cultural stand-in for Bath - the Scottish dancing was a little disturbing, however - and Cat's 'discovery' in the old trunk is actually more appropriate and meaningful. <i>Northanger Abbey</i> is not my favourite Austen novel - I've only read the story once - so I didn't really care what havoc Val McDermid played with the characters, and similarly, I won't be keeping this version. Overall, though, the updating is cleverly done, despite painful dialogue - 'totes amazeballs!' - and a bizarre final twist. Apart from the odd use - and I do mean 'odd' - of expletives, this would make an excellent YA retelling of Austen's classic.
Review by infjsarah
27/08/2015
I enjoyed this quite a lot. I'd recently reread the original so it was fun to compare the modernisation. OK, so some bits were a stretch but the world has moved on in 200 years and I think Val McDiarmid did a pretty good job in updating it. The original Catherine was hardly brain of Britain either.
Review by cbl_tn
27/01/2016
17-year-old Cat Morland, the oldest daughter of a Dorset vicar, is having the time of her life while accompanying her childless friends and neighbors, the Allens, to the Edinburgh Fringe Festival. Her hosts send her to dancing lessons to learn the dances for the Highland Ball. She is intrigued by her partner, the handsome Henry Tilney. However, she is soon distracted by her new friend, Bella Thorpe, who she soon learns is seeing her older brother, James. Bella's brother, Johnny, a friend of James's from Cambridge, soon latches on to Cat, not recognizing that his attentions are both unwelcome and hindering any further development in her relationship with Henry Tilney. Fortunately, Henry and his sister, Ellie, persevere in their attempts at cultivating her friendship. The three find that they have a lot in common, including a love for the Hebridean Harpies horror novels. Cat is thrilled when the Tilneys invite her to stay at their home, Northanger Abbey, where the environment and the odd behavior of the Tilney's father, General Tilney, resemble the vampire stories Cat loves so much.The Edinburgh Fringe Festival is a good substitute for the social milieu of Jane Austen's <i>Northanger Abbey</i>. It's hard to imagine this retelling working well in a different setting. At 17, Cat seems a bit young for a lawyer in training. However, it's not nearly as challenging as the difficulty Joanna Trollope faced with a plausible relationship storyline for Marianne and Brandon in her updating of <i>Sense &amp; Sensibility</i>. The texting and Facebooking seem natural in this setting, although I wouldn't notice if McDermid didn't strike the right tone here. This is the most enjoyable of the three Austen Project novels I've read so far, and I think it will satisfy many of Austen's fans. McDermid successfully blends her own voice with Austen's original story. She's set a high bar for the remaining three novels in the project.