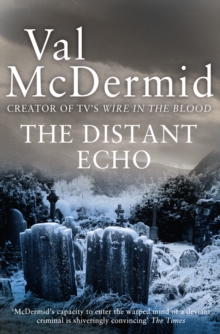 The Distant Echo
Paperback
Description
The award-winning Number One bestseller and Queen of crime fiction Val McDermid carves out a stunning psychological thriller.
The past is behind them, but what's still to come will tear them apart...Some things just won't let go.The past, for instance.That night in the cemetery.The girl's body in the snow.On a freezing Fife morning four drunken students stumble upon the body of a woman in the snow.
Rosie has been raped, stabbed and left for dead in an ancient Pictish cemetery. And the only suspects are the four young men now stained with her blood.Twenty-five years later the police mount a `cold case' review of Rosie's unsolved murder and the four are still suspects.
But when two of them die in suspicious circumstances, it seems that someone is pursuing their own brand of justice.
For the remaining two there is only one way to avoid becoming the next victim - find out who really killed Rosie all those years ago...
Information
Format: Paperback
Pages: 576 pages
Publisher: HarperCollins Publishers
Publication Date: 01/03/2010
Category: Crime & mystery
ISBN: 9780007344659
Free Home Delivery
on all orders
Pick up orders
from local bookshops
Reviews
Showing 1 - 1 of 1 reviews.
Review by CookieDemon
16/06/2015
(This review also appears on Amazon.co.uk)This is the third McDermid book I have read, and the second one I have actually enjoyed (I gave up on the dire `Trick or Treat!') and I am pleased to see it based in the authors native Scotland which really springs from the pages and adds a great sense of place to the story.The novel unfolds in the late 1970's as four students at St Andrews University stumble across the body of a young woman in a churchyard after a night out. Rosie Duff is clearly in a bad way, but when she later dies, suspicion immediately alights on the four young men who found her. There's no proof that they had any involvement in what happened, but no other suspects either- and for the next couple of decades that shadow of doubt is cast over the four friends. It is on the twenty fifth anniversary of the murder however when things take another turn for the worst- two of the men die in suspicious circumstances and the remaining men realise that someone is seeking revenge and that they must be next, unless they can find Rosie Duff's real killer...This was a very readable book that held my attention from beginning to end. I must agree with other reviewers that the characterisation is credible and the friendship between the main characters and their initial bond at the start of the novel is very well drawn. As events unfold, you can almost feel the closeness between the protagonists beginning to fray as suspicion alights on them and they almost start to turn on one another- and this was very well portrayed. I also enjoyed the different time periods depicted- Scotland in the 1970's had very different police procedures and attitudes to the 21st Century and this was interesting to read about, particularly in conjunction with Ziggy, who I think was an excellent character.My main criticism for this novel is that even though this is fiction and they were clearly devices needed for the plot, I really couldn't believe a) how unsympathetic the police were to the students' predicament and their willingness to tar them as suspects from the start and b) how incompetent the police actually were! Losing evidence? Come on!!! I must confess that the cliché aspect of that bit of plot irritated me a bit. Also, I felt that all the way through the book the sense of tension was invariably heightened, but then once the ending and resolution actually arrived it was all a bit of an anti-climax. Still, I didn't see the actual dénouement coming or whodunit- it was very neatly delivered, so top marks for that.Criticism aside, this was still a well paced thriller and admittedly a bit of a page turner that held my attention well enough. McDermid isn't the best thriller writer I've ever read, but this book was enjoyable enough and I am looking forward to trying more by her in future.
Also in the Detective Karen Pirie series