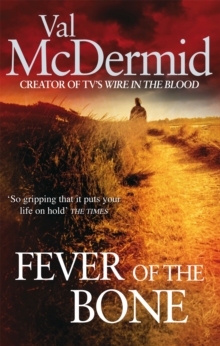 The Fever of the Bone
Paperback
Description
You should have been a detective. If there's one thing the last year has proved, it's how good you are at finding things out.
Not simple things. Hard things. Things that nobody is supposed to be able to find out.
Things that are buried so deep nobody even thinks twice about them.
The sort of things that turn people's lives inside out once they're exposed.' Meet Tony Hill's most twisted adversary - a killer with a shopping list of victims, a killer unmoved by youth and innocence, a killer driven by the most perverted of desires.
The murder and mutilation of teenager Jennifer Maidment is horrific enough on its own.
But it's not long before Tony realises it's just the start of a brutal and ruthless campaign that's targeting an apparently unconnected group of young people.
Struggling with the newly-awakened ghosts of his own past and desperate for distraction in his work, Tony battles to find the answers that will give him personal and professional satisfaction in his most testing investigation yet.
Information
Format: Paperback
Pages: 512 pages
Publisher: Little, Brown Book Group
Publication Date: 01/01/2010
Category: Crime & mystery
ISBN: 9780751543216
Free Home Delivery
on all orders
Pick up orders
from local bookshops
Reviews
Showing 1 - 3 of 3 reviews.
Review by isabelx
16/06/2015
This is the first of the Tony Hill/Carol Jordan series that I have read, and as it's the 6th and latest book in the series, it probably wasn't the best one to start with. That said, the relationships between the members of the MIT squad and Dr Hill were clear and enough of the back-story was included that I didn't feel lost. Although I've never watched "Wire in the Blood", even having seen the trailers over the years meant that I was picturing Robson Green and Hermione Norris as Tony and Carol.The relationships between the characters were believable, but the murder mystery was a bit lame. It relied too much on coincidence and in some places the investigators seemed a bit dim and slow on the uptake for a squad of supposed high-flyers. I'm sure most readers would have guessed what "ur real" in Jennifer's web-chat might have been referring to, whereas the police and the profiler didn't have a clue. And when they were wondering how the main suspect might have found his victims, it never occurred to them that what he did for a living might have anything to do with it!However, it was still an enjoyable read, and I will read the other books in the series if they come my way. The ending makes me think that this could well be the last book in the series, but at least I will be able to read the earlier books without worrying too much about what will happen to the main characters.
Review by edwardsgt
16/06/2015
Another cracking plot, this time with Tony Hill excluded from the initial investigation by DCI Carol Jordan into the gruesome death of a teenager, after the appointment of a cost-cutting new Chief Constable. Tony Hill meanwhile goes on a journey of discovery about the father he never knew. Recommended.
Review by adpaton
16/06/2015
Another excellent episode in the ongoing saga of Carol Jordan and Tony Hill: Bradfield's new Chief Constable James Blake has dispensed with Tony's services and informed Carol her Cold Case Squad is a waste of resources and threatening to close it. The pressure is on the pair but Tony soon finds work in Worcester where he investigates the murder mutilation of young people who have been stalked and groomed by an unknown through a social networking site called Rigmarole. Carol is involved in a similar investigation and the two are soon working together again but, typically, there are several side plots as well - the most important of which might be the indentity of Tony's father who has left his son everything in his will. Vanessa Hill, the mother from hell, is also at hand, and one of the reasons Tony agrees to work for Worcester is that his father's house amd narrow boat are located there. Add artificial insemination, incipient alcoholism and a host of new and promising characters to the list, not to mention missing persons and a long lost child, and the reason for the excellence of this work will become apparent.
Also in the Tony Hill and Carol Jordan series | View all