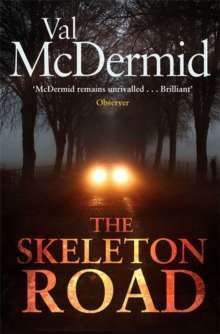 The Skeleton Road
Hardback
Description
When a skeleton is discovered hidden at the top of a crumbling, gothic building in Edinburgh, Detective Chief Inspector Karen Pirie is faced with the unenviable task of identifying the bones.
As Karen's investigation gathers momentum, she is drawn deeper into a world of intrigue and betrayal, spanning the dark days of the Balkan Wars.
Karen's search for answers brings her to a small village in Croatia, a place scarred by fear, where people have endured unspeakable acts of violence.
Meanwhile, someone is taking the law into their own hands in the name of justice and revenge -- but when present resentment collides with secrets of the past, the truth is more shocking than anyone could have imagined ...Atmospheric, spine-chilling and brimming with intrigue and suspense, this is Val McDermid's richest and most accomplished psychological thriller to date.
Information
Format: Hardback
Pages: 416 pages
Publisher: Little, Brown Book Group
Publication Date: 09/09/2014
Category: Crime & mystery
ISBN: 9781408704578
Other Formats
Paperback from £7.85
EPUB from £5.99
CD-Audio from £17.95
Free Home Delivery
on all orders
Pick up orders
from local bookshops
Reviews
Showing 1 - 5 of 6 reviews.
Previous | Next
Review by nicx27
16/06/2015
This is my first book by this author. Somebody told me it wasn't one of her best but I really enjoyed it. DCI Karen Pirie is in charge of Historic Cold Cases. When a skeleton with a gunshot hole in his skull is found at the top of a building that is due to be demolished she is called in to investigate. It leads her to Professor Maggie Blake who hasn't seen her Croatian lover for eight years and it also takes her to Croatia and deep into the history of the Balkan Wars.I think this was an intriguing look at those wars as someone who knew little about them. It added an extra level of interest to what otherwise would have been an ordinary crime novel. I found the writing to be good and the story well put together. I liked Karen as a character and I wonder if she might turn up in another book, despite this being one of the author's standalone novels. An interesting plot, looking at war crimes, cold cases and retribution, from the perspectives of police, war crimes investigators and those who lived through the conflict. I didn't immediately gel with it but once I was well into the story I really started to like this book.Thank you to the publishers and Netgalley for providing a copy for review.
Review by greatbookescapes
16/06/2015
DCI Karen Pirie investigates the discovery of a skeleton on the roof of a building, an historical case that takes her to Europe to find answers with unexpected connections to the Croatian military.<br/><br/>This is an intricate book that moves back and forwards in time with flashbacks to the Balkan conflict in Croatia and Serbia in the 90s. <br/><br/>I remember the conflict and the atrocities which were on the news but not much historical details and am grateful for the serious reminder within this novel. <br/><br/>'Hero' is a word that has many meanings in different cultures and McDermid uses this to make the moral tenet less certain with the way the story unfolds. Mitja, who was a general in Croatia has been missing for 8 years and his lover Maggie, a feminist geo-political Professor in Oxford does not want to believe he is behind the revenge killings of war criminals. <br/><br/>What I especially liked:<br/><br/>I love how as readers, we get so involved in Karen's life and want to follow her more. There are some really great characters in the book and I especially love the duo Alan Macanespie and Theo Proctor who have all but given up on life until they get a new boss.<br/><br/>The parts that made the book special for me were the intense flashbacks which brought the younger selves of the characters alive giving a real depth of personal history and also enhancing the murder mystery. <br/><br/>Left me with a lot of thought did this book ! <br/>
Review by greatbookescapes
16/06/2015
DCI Karen Pirie investigates the discovery of a skeleton on the roof of a building, an historical case that takes her to Europe to find answers with unexpected connections to the Croatian military.<br/><br/>This is an intricate book that moves back and forwards in time with flashbacks to the Balkan conflict in Croatia and Serbia in the 90s. <br/><br/>I remember the conflict and the atrocities which were on the news but not much historical details and am grateful for the serious reminder within this novel. <br/><br/>'Hero' is a word that has many meanings in different cultures and McDermid uses this to make the moral tenet less certain with the way the story unfolds. Mitja, who was a general in Croatia has been missing for 8 years and his lover Maggie, a feminist geo-political Professor in Oxford does not want to believe he is behind the revenge killings of war criminals. <br/><br/>What I especially liked:<br/><br/>I love how as readers, we get so involved in Karen's life and want to follow her more. There are some really great characters in the book and I especially love the duo Alan Macanespie and Theo Proctor who have all but given up on life until they get a new boss.<br/><br/>The parts that made the book special for me were the intense flashbacks which brought the younger selves of the characters alive giving a real depth of personal history and also enhancing the murder mystery. <br/><br/>Left me with a lot of thought did this book ! <br/>
Review by greatbookescapes
16/06/2015
DCI Karen Pirie investigates the discovery of a skeleton on the roof of a building, an historical case that takes her to Europe to find answers with unexpected connections to the Croatian military.<br/><br/>This is an intricate book that moves back and forwards in time with flashbacks to the Balkan conflict in Croatia and Serbia in the 90s. <br/><br/>I remember the conflict and the atrocities which were on the news but not much historical details and am grateful for the serious reminder within this novel. <br/><br/>'Hero' is a word that has many meanings in different cultures and McDermid uses this to make the moral tenet less certain with the way the story unfolds. Mitja, who was a general in Croatia has been missing for 8 years and his lover Maggie, a feminist geo-political Professor in Oxford does not want to believe he is behind the revenge killings of war criminals. <br/><br/>What I especially liked:<br/><br/>I love how as readers, we get so involved in Karen's life and want to follow her more. There are some really great characters in the book and I especially love the duo Alan Macanespie and Theo Proctor who have all but given up on life until they get a new boss.<br/><br/>The parts that made the book special for me were the intense flashbacks which brought the younger selves of the characters alive giving a real depth of personal history and also enhancing the murder mystery. <br/><br/>Left me with a lot of thought did this book ! <br/>
Review by greatbookescapes
16/06/2015
DCI Karen Pirie investigates the discovery of a skeleton on the roof of a building, an historical case that takes her to Europe to find answers with unexpected connections to the Croatian military.<br/><br/>This is an intricate book that moves back and forwards in time with flashbacks to the Balkan conflict in Croatia and Serbia in the 90s. <br/><br/>I remember the conflict and the atrocities which were on the news but not much historical details and am grateful for the serious reminder within this novel. <br/><br/>'Hero' is a word that has many meanings in different cultures and McDermid uses this to make the moral tenet less certain with the way the story unfolds. Mitja, who was a general in Croatia has been missing for 8 years and his lover Maggie, a feminist geo-political Professor in Oxford does not want to believe he is behind the revenge killings of war criminals. <br/><br/>What I especially liked:<br/><br/>I love how as readers, we get so involved in Karen's life and want to follow her more. There are some really great characters in the book and I especially love the duo Alan Macanespie and Theo Proctor who have all but given up on life until they get a new boss.<br/><br/>The parts that made the book special for me were the intense flashbacks which brought the younger selves of the characters alive giving a real depth of personal history and also enhancing the murder mystery. <br/><br/>Left me with a lot of thought did this book ! <br/>