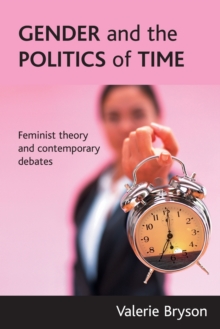 Gender and the politics of time : Feminist theory and contemporary debates
Paperback / softback
Description
Women's increased role in the labour market has combined with concerns about the damaging effects of long working hours to push time-related issues up the policy agenda in many Western nations.
This wide-ranging and accessible book assesses policy alternatives in the light of feminist theory and factual evidence. The book introduces mainstream ideas on the nature and politicalsignificance of time and re-frames them from a feminist perspective to provide a critical overview of policies in Western welfare states.
Themes covered include gender differences in time use and the impact of 'time poverty' on women's citizenship; the need to value time spent giving and receiving care; the social meanings of time and whether we can talk about 'women's time' and 'men's time'; and the role of the past in framing policy options today. The book is essential reading for all those interested in genderinequality, time-use or work/rest-of-life balance.
It will be an invaluable resource for students and academics throughout the social sciences.
Information
Format: Paperback / softback
Pages: 232 pages, No
Publisher: Policy Press
Publication Date: 21/11/2007
Category: Feminism & feminist theory
ISBN: 9781861347497