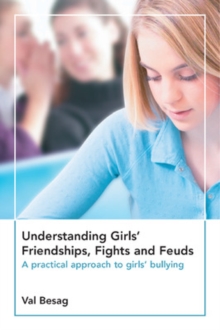 Understanding Girls' Friendships, Fights and Feuds: A Practical Approach to Girls' Bullying
Paperback / softback
Description
Girls' bullying is more subtle and less physical than that perpetrated by boys; however, it can be just as powerful, and the emotional repercussions of bullying among girls can be more destructive and longer lasting than the effects of more obvious forms of bullying.
Teachers report that quarrels between girls are far more time-consuming and difficult to resolve than the disputes of boys, yet not enough information is available to guide them on dealing with girls' fighting and unhappiness caused by their relationships with other girls, many of whom may have been their closest friends.Understanding Girls' Friendships, Fights and Feuds illuminates the issue of girls' bullying - an issue that can cause a great deal of distress but which is sometimes ignored or dismissed by adults.
Drawing on close observations of girls' behaviour, Val Besag provides an in-depth understanding of girls' bullying, exploring the mechanisms and language that girls use to entice some into their groups and exclude others. The book offers detailed practical advice for dealing with girls' bullying, which will help both students and teachers to understand and combat different kinds of bullying, as well as comprehensive guidance for preventing or reducing bullying activities among girls, including: Whole school approaches Programmes for developing emotional literacy and resilienceApproaches for dealing with gangsUsing methods such as art and drama Developing conflict resolution skills Student - parent programmesPeer support programmesThis is key reading for teachers, trainee teachers, educational psychologists and social workers, academics and researchers in the field, and others who have an interest in creating bully-free schools and societies.