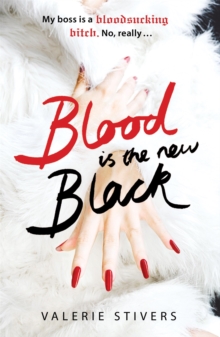 Blood is the New Black
Paperback
Description
The Devil may wear Prada, but real fashion taste is in the blood ...When Kate gets offered an internship at top New York fashion mag Tasty, everyone tells her she's the luckiest girl alive.
But it's not long before the office politics get to her.
Her fellow interns are bitchy, her superiors are backstabbing, and she's constantly getting it in the neck from her chilly boss Lillian.
But when people start to go missing, Kate starts to realise that there's something funny going on at Tasty.
Why is everyone uniformly condescending, black-clad and emaciated?
Doesn't anyone sleep? How come they all have such sharp teeth? Are they ...vampires? Armed with a stake, a crucifix, and James the cute photo assistant, Kate sets off for a showdown - only to realise that she's more out of her depth than a homeless person in Hermes.
Starting your first job may be difficult, but working at Tasty is draining.
Literally ...
Information
Format: Paperback
Pages: 304 pages
Publisher: Hodder & Stoughton General Division
Publication Date: 01/10/2007
ISBN: 9780340933961
Free Home Delivery
on all orders
Pick up orders
from local bookshops
Reviews
Showing 1 - 4 of 4 reviews.
Review by wyvernfriend
16/06/2015
Chicklit meets buffy in this story of a girl who takes on a job in a fashion magazine one summer and finds that the job comes with some very special trials and tribulations.It's vaguely unsatisfying, but a quick read.
Review by Chase92
16/06/2015
This novel is essentially The Devil Wears Prada, but with a vampire twist. The plot develops rather slowly during first few chapters, in which fans of The Devil Wears Prada or even Ugly Betty will experience a sense of déjà vu. And then somebody dies, and that's when the plot starts to really pick up pace. However, the ending is too rushed to my liking, as I had hoped for something more 'epic', and the plot twists are quite predictable. Also, there isn't as much action as what you'd expect from a vampire novel, but Stivers more than makes up for it with the wit and humour and her poking fun at the fashion industry.One thing I particularly disliked about the novel is Stivers' reimagining of vampires. In the novel, humans can only become vampires if they possess something called a 'style gene'. Vampires are also terribly obsessed and very involved with all things fashion. While some readers might appreciate Stivers' creativity, I simply find it weird. Her characters are also hard to relate to. Kate, for example, wears shoes made from recycled car tyres, and has an uncanny 'ability' to choose perfect outfits for a person.Overall, Blood Is The New Black is a refreshing debut that will appeal to more than just fans of vampire fiction. Perfect for those who just want to read and relax. Just don't expect anything mindboggling.
Review by lberriman
16/06/2015
This was a fun book about vampires working for a fashion magazine. An easy read.
Review by barpurple
16/06/2015
Very untaxing easy read. Not a bad take on the vampire theme. Lit Bubble Gum