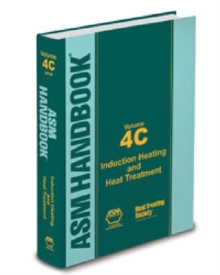 ASM Handbook, Volume 4C : Induction Heating and Heat Treatment
Hardback
Description
This ALL NEW ASM Handbook gives design, manufacturing, and material engineers a practical and comprehensive reference on the technologies and applications of induction heating and heat treatment.
This book provides practitioners, students, engineers, and scientists the knowledge to more clearly understand and obtain solutions for typical induction heating problems that they encounter on an everyday basis. Continuing in the tradition of the ASM Handbook series, this Volume provides a unique combination of practical knowledge grasping ready-to-use diagrams, technical procedures, guidelines, and good practices with advanced theoretical knowledge emphasizing on specifics of induction processes compared to alternative technologies.
An appreciable amount of material is devoted to practical aspects, including review of standard and customized induction equipment.
Special attention is paid to describing quality assurance, process monitoring, maintenance and safety procedures, energy and environmental aspects, including control of magnetic field exposure and review of international standards and regulations. Written by internationally recognized experts, ASM Handbook Volume 4C covers the breadth and significance of induction heating and heat-treatment technologies and applications.
Beginning with reviewing electrical, electromagnetic, heat transfer and material science fundamentals related to induction heating, along with coverage critical facets associated with this technology such as:Nonequilibrium nature of phase transformation and other metallurgical subtleties related to the specifics of induction hardening, tempering, stress relieving, heating prior to hot working and melting. Review of ASTM and SAE standards and guidelines in proper measuring of hardness case depth and heat affected zone. Pattern specification as well as issues and complications related to different hardness measuring techniques. Destructive and nondestructive testing. Selection of critical process parameters and inductor styles, heat pattern control, the use of magnetic flux concentrators, quench design subtleties as well as a review and explanation of common misconceptions and erroneous assumptions. Formation of residual and transient stresses and their impact on a performance of heat treated components. Temperature requirements for heating carbon steels, alloy steels, super alloys, titanium, aluminum and copper alloys and other materials prior to hot and warm working. Novel technological developments in heating billets, bars, tubes, rods and other metallic workpieces. Optimization procedures and strategies in obtaining optimal process control algorithms based on various technological criteria, real-life constrains and cost functions (e.g., maximizing throughput and temperature uniformity, energy effectiveness, minimizing required shop floor space and metal loss, etc.).
Principles of multiobjective optimization of induction heating devices. Induction hardening of critical components, including gears, axle shafts, camshafts, crankshafts, and other components used in automotive and off-road machinery, aeronautic and aerospace engineering, farming, appliance, oil and gas industries. Failure analysis of induction heat treated components and comprehensive review of defects and abnormal characteristics. Good practices in designing and fabricating long-lasting induction coils and ways to avoid their premature failures. Special applications of electromagnetic induction, including melting glasses and oxides, optical fiber draw, nanoparticle heating and hyperthermia applications. Design principles and operation specifics of transistorized and thyristorized power supplies for induction heating needs. Modern computer modeling and specifics of simulation of induction thermal processes.
Information
Format: Hardback
Pages: 820 pages
Publisher: A S M International
Publication Date: 30/06/2014
Category: Metals technology / metallurgy
ISBN: 9781627080125
Free Home Delivery
on all orders
Pick up orders
from local bookshops
Also in the ASM Handbook series | View all